Stewed hake with vegetables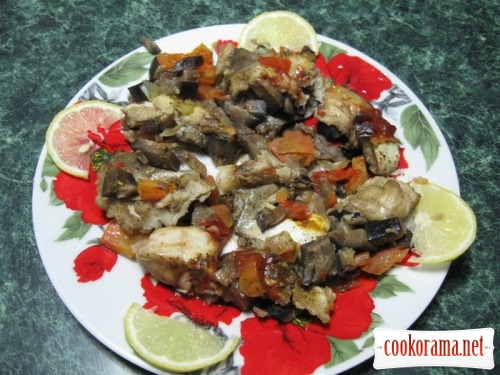 Ingridients
2 шт.
2 шт.
2 шт.
2 шт.
2 шт.
1 шт.
Preparation
Clean hake, wash and cut in pieces, salt a bit.
Die eggplants, onion, carrot, pepper, tomato and stir all. Sprinkle with dry parsley and dill.
Divide fish in 2 parts, and vegetables in 3 parts.
Spread in saucepan first part of vegetables.
Next fish, sprinkled with fish spice.
Next the second part of vegetables, fish and again vegetables. Pour 1/2 glass of boiling water and 3 tbsp of oil. Put saucepan on heat and cover with lid. Fire should be medium. Cook for an hour. You can add some tomato paste.
Very tasty. With side dish
Bon Appetite!
I took the recipe from «Cook tasty with Irina Savenok»