Cookies "Blow kisses" with nut meringue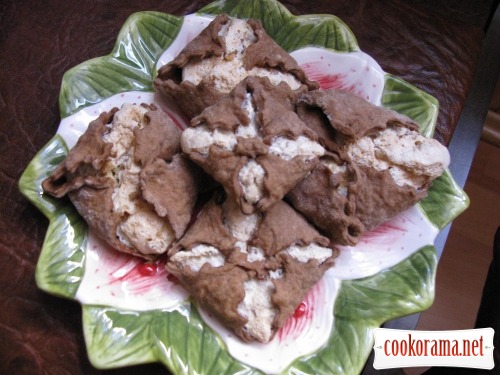 Ingridients
Dough
250 g.
100 g.
3 шт.
2-3 spoon
1 spoon
Filling
3 шт.
200 ml
200 g.
Preparation
DOUGH:
Freeze margarine in freezer, grate it.
Add rest of ingredients, knead dough.
It should be as plasticine, not sticky.
Divide dough in 4 parts and put in freezer for 30 min.
STUFFING:
Cold whites + some salt, mix in «steep» foam.Gradually add sugar and mix again into «steep peaks».
Add nuts and mix carefully with spoon, from the bottom up.
Take dough by one part from fridge and roll in layer.
Cut in squares 5 * 5 см.
Spread tsp of stuffing on each square.
Combine edges, making envelopes.
Bake in the oven for 40 min at 170℃.
It should rise a bit and become brown.
Bon Appetite to all!
I found the recipe in magazine " Love to cook ", but don`t remember the number.
I decided to add cocoa in dough.
On photo ready cookies only from 3 / 4 of dough, portion is quite big, so you can make a half.
And also, because I lacked stuffing. I had to put 1 tsp, but I put more. Next time I`ll make stuffing from 4 whites, the more stuffing so tastier and fluffier.
From rest of dough I made
such
cookies.