Almond tubes according to GOST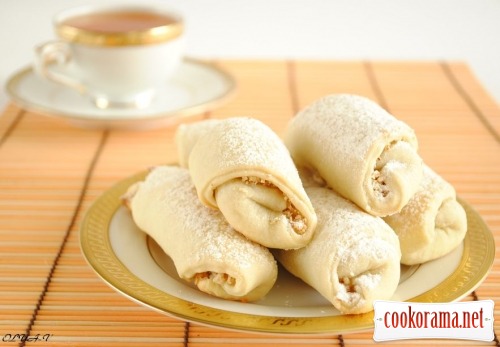 Ingridients
Dough
409 g.
186 g.
110 g.
Filling
180 g.
186 g.
5 g.
3 g.


The recipe is from site «Cook» by e-cat, text and photos are mine

Preparation
Peel almond (I did not do that) and mince or finely pound, I ground in blender, add cognac, sugar and cardamom, mix well, I partially replace sugar with honey, to make filling slightly viscous.
Heat the oven at 180℃, cover baking sheet with paper, grease it with butter.
Mix soft butter into fluffy white mass for 5-10 min, add cooled sour cream and portions of sifted dough, knead smooth dough. Then dough can be divided into pieces by 40 g and roll flat cakes with one wider edge. I just rolled circles, divided into sectors.
On a wide edge put 30 g of stuffing, and roll in tube.
Spread tubes on baking sheet. Bake till readiness.
Sprinkle hot tubes with sugar powder.
Enjoy your tea!