Chocolate eggs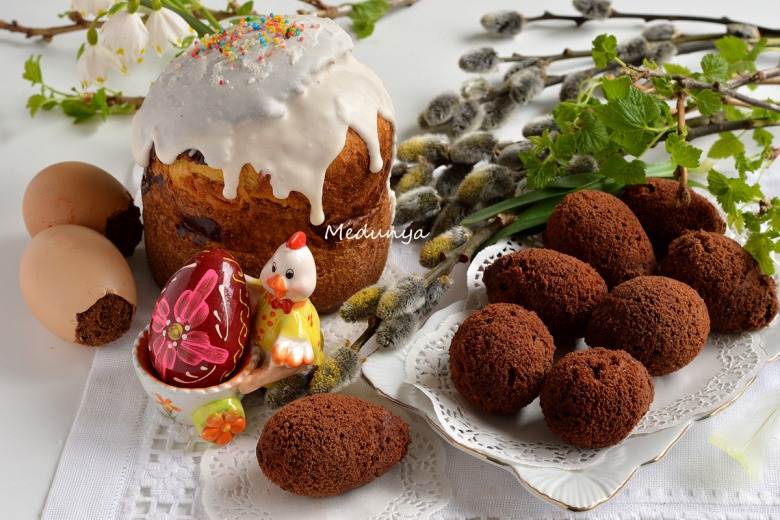 Ingridients
50 g.
2 шт.
80 g.
20 g.
65 g.
1/2 tsp.
1 g.
1 1/2 spoon
65 g.
Every housewife tries to bake cake for holidays by her own, to bring her energy, her desires and thoughts directed to the welfare of her family. Because all family will it Easter cakes during all Easter holidays. For baking cakes use quiet large number of eggs. I propose, while cake rises in forms, cook delicious chocolate eggs. They are prepared quiet quickly and for their preparation are well suitable egg peels, which you use to knead cake. The main thing – beat eggs for cakes, to make upper hole quiet small. So chocolate eggs will be turn out very neat, indeed will keep the shape, which ideally repeat shape of real eggs.

PREPARATION
Prepare egg peels in advance. For this boil it with some soda for 30 min. Dry and grease with oil inside, sprinkle there 2 drops of oil and grease it all over the outside surface.
Spread peel in baking molds for small cakes, cover them before with crumpled foil for peel stability.
DOUGH:
Melt chocolate and butter in water bath. Cool it.
Slightly mix eggs with sugar, salt and vanilla sugar. Combine chocolate and egg masses.
Sift flour with baking powder and cocoa. Combine dry and wet components for dough.
Knead dough in pastry bag and squeeze into each peel dough at 2\3 of volume( not bigger, as dough rises well).
Bake for 15-17 min at 180℃.
Peel eggs after cooling or decorate peel and serve in well decorated peel on a beautiful base for eggs. Result — 9-10 chocolate eggs.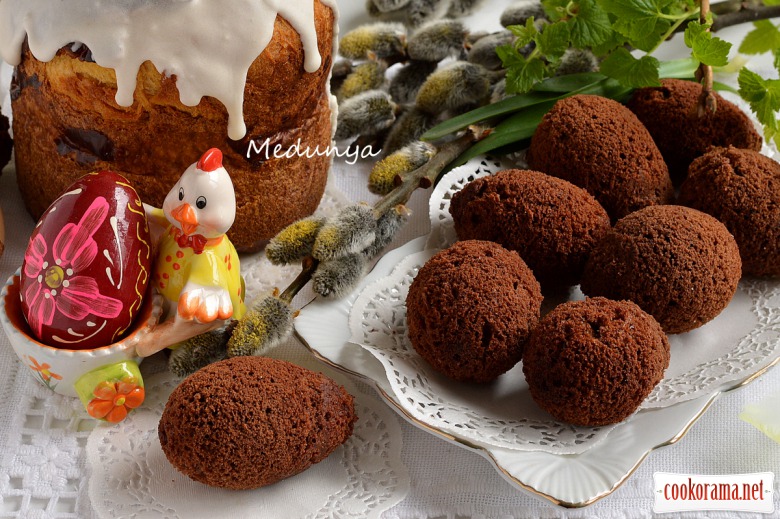 Bon Appetite!
952

09 April 2015, 21:31