Baked braids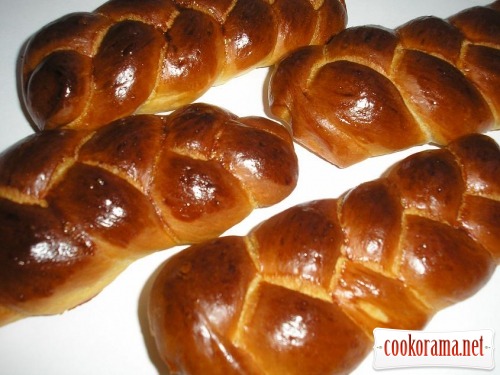 Ingridients
1 glass
50 g.
4-5 spoon
10 g.
2 шт.
Preparation
Dissolve yeast in ½ glass of slightly heated aerated water, add 1 tbsp of sugar. Mix all well and let it stay for 30 min.
Pour yeast in a big bowl, add 1 egg, ½ glass of aerated water, 3-4 tbsp of oil and 3-4 tbsp of sugar. Mix all well. Now add flour – I used 14 tbsp of flour. During the process of kneading dough I always grease my hands with oil and knead dough right in the bowl. Cover the dough with towel and let it stay for 45 min, for dough to rise in 2-3 times.
Spread dough in greased with oil surface. Grease hands with oil again and begin to weave braids. Tear from dough three, if possible similar small pieces. Roll each piece into a rope. Combine 3 ropes and weave braids. You can make them long or short, thick or thin, as you wish. And if the ropes are not of the same thickness – don`t worry, it will be almost unnoticeable. I made a long brade and cut it in 3 parts, did not pinch the edges of braids, a pinch by cut with a knife was enough.
Spread braids on covered with baking paper sheet, smear with mixed egg and let it stay for 20-30 min. Bake at 180 degrees for 30 min.