Toasts for breakfast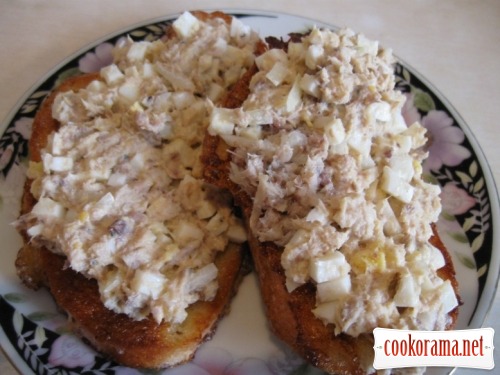 Speed:

not specified

Difficulty:

not specified

Method:

not specified
Ingridients
5 шт.
1 шт.
150 g.
2 spoon
0,5 шт.
100 ml
Preparation
Hard boil 3 eggs, cool them, remove peel, dice it. Peel onion, wash, dice.
Open a can of sardines in oil, drain half of oil, shift sardines in bowl, mash with fork. Add eggs and onion
Next add mayonnaise and stir all.
Cut half of loaf in slices.
Mix 2 eggs with fork, salt it, add milk and stir well.
Heat pan with oil. Dip each slice of bread from both sides in egg with milk
And fry in pan from both sides
Spread ready toasts on plate, let them cool down. Next put on each toast filling from sardines.
It turns out quickly and tasty. Especially in the morning, when all are in hurry. Well if you have very little time, than you can not cook toasts, but spread sardine filling on a slice of brown bread or a long loaf, anyway tasty.