Patties with apple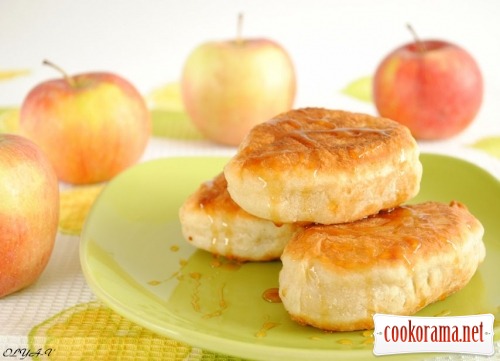 Ingridients
0,5 glass
4 spoon
1 spoon
1 шт.
0,5 tsp.
3 tsp.
0,5 tsp.
2,5 glass
3-4 шт.
Preparation
Mix in bowl kefir, sour cream, melted margarine, egg, salt, sugar, soda, gradually adding sifted flour, knead soft dough, cover it, pit aside for now.
Peel apples, grate them, squeeze excess juice, mix apples with cinnamon.
Divide dough in 10 equal parts, roll pieces in flour, form a flat cake, put some apples inside and sprinkle on top with some sugar, form patties.
Fry patties in heated oil from both sides till golden color. Serve patties with honey or sour cream, tasty and fast for morning coffee.
Bon Appetite!
1069

08 October 2010, 07:05