Baba Ganoush + Tahin paste recipe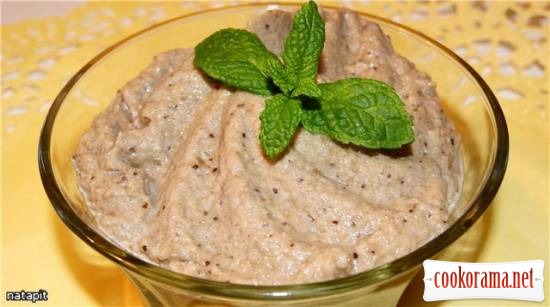 Ingridients
Baba Ganoush
1 шт.
3-4 spoon
2 шт.
3-4 spoon
2 spoon
Tahin paste
130 g.
50 ml
I would like to continue the theme of meatless dishes, which Larissa-glaros begun. Dish of Arabic cuisine Baba Ganoush — very simple and very fast, but how delicious! Equally often, many chefs can not cook certain dishes, which include Thinh, so seeing this recipe at LJ by Lena-violet I decided to repeat it for you! Try — it is very quickly and easily!


Preparation
Bake eggplants in oven or on grill to readiness.
Peel and grind in blender.
Add pressed garlic, tahini, oil, lemon juice, salt and pepper.
Tasty with fresh bread, very nice fit as the «cream» for profytrols, but it is not for fasting!
*Tahina (thina,tahini) sesame paste.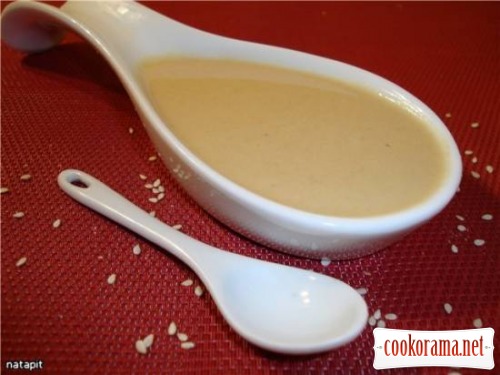 Place sesame on a baking sheet covered with baking paper and slightly fry it in oven, occasionally shaking the pan not to burn sesame, I did it in microwave.
When sesame become slightly golden and begin to smell fragrantly, pull and grind in the processor-blender, gradually adding oil — ideally sesame can be also nut, or any other neutral taste. Beat until homogeneity, till sesame becomes creamy, medium thickness consistency of honey. That`s all, thina is ready.
It can be used to make hummus, sauces for meat and vegetables and pastries. Store in the refrigerator in a jar with a tight lid to 2 months.