Zucchini surprice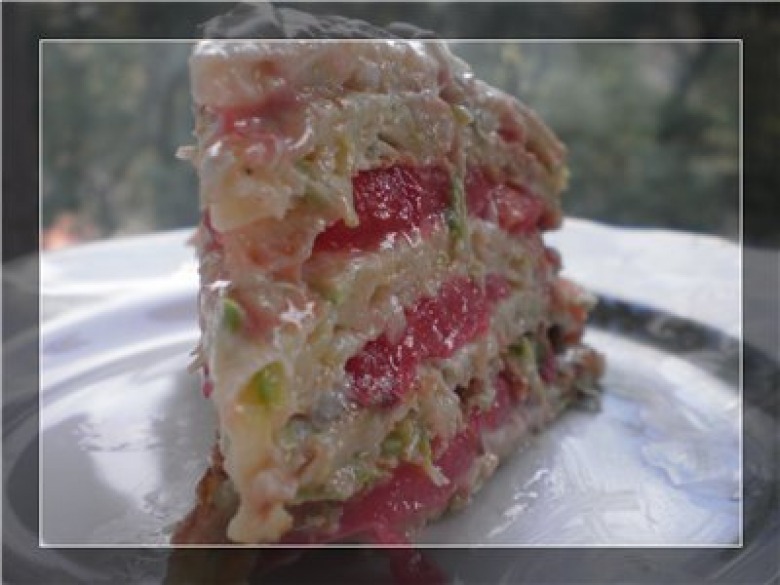 Ingridients
600-700 g.
2 шт.
4-5 spoon
3 шт.
100 g.
2-3 шт.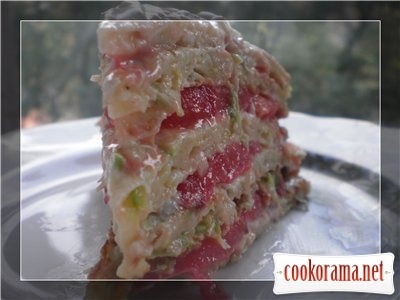 Author Mari с Cook-Talk Forums ,thanks she a lot!
Resipe of author, photos mine


Preparation:
Peel zicchini, grate, pour off the liquid. Chop greens. Whip eggs a little.
In a big pan mix zucchini, greens, eggs. Add salt, pepper to taste. Gradually pour flour in. You need a dough as if for pancakes.
Preheat frying pan with a little oil (better use frying pan with a diameter of 15-20cm, that we can easily turnover our zucchini pancake).
Put out with big spoon, quickly sharing onto all frying-pan surface (they don't will be flow, zucchini are hold the form). Pancake must over comes not more than 0,5-0,7 cm thickness. Fry on a medium heat, you can cover it a little to fry a middle of pancake.
Remove pancakes to the paper towel.
While pancakes are cool down, make an interlayer: mix mayonnaise with chopped garlic, sliced tomatoes.
Make «cake» with layers: zucchini pancake, spread with mayonnaise, add tomatoes, again pancake an so on.
Decorate with greens and tomatoes.
Leave for 30-40 minutes (even more if you want).
It is very tasty and delicate!
Bon appetite!