Baklava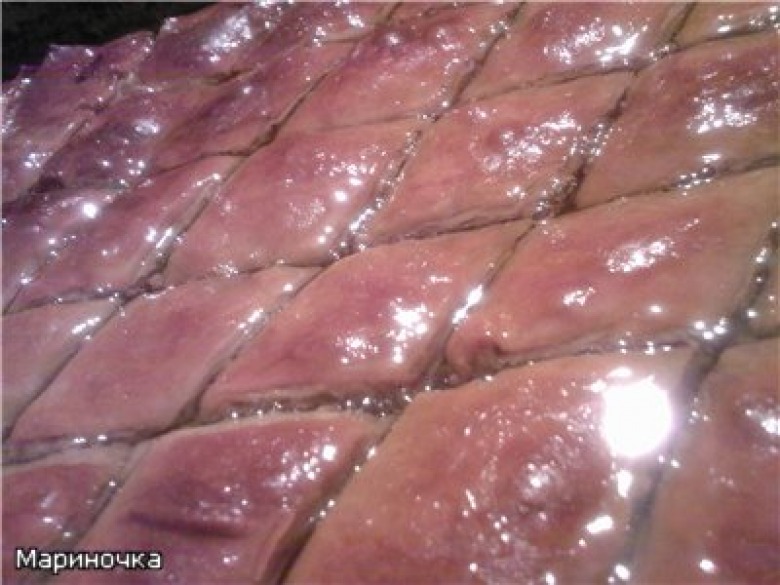 Ingridients
Dough:
1 tsp.
2 spoon
4 шт.
1 шт.
250 ml
3-4 spoon
125 g.
5-6 ml
Filling:
600 ml
8 spoon
1 tsp.
300 g.
900 g.
1 шт.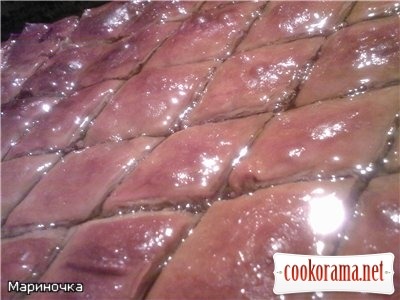 Preparation:
Mix yeast, honet, warm milk, leave for 10 minutes. Add yolks and egg, salt, oil and butter, saffron and flour, knead a dough.
Mix nuts with sugar and cardamon.
Oil the baking form. Divide dough into 12-16 parts (depends on the form size). Roll out each part until thinness. Put first layer into baking dish, spread leayer with melted butter, put next layer, again spread with butter, make layer with nuts, then again dough with butter and again nuts and so on. Last two layers without nuts!!!
Spread last layer with yolk, cut into rhombus. Put at the preheated to 18 degree C oven. Remove after 10 minutes, pour all butter and put in oven again. Bake until toasted.
Remove and pour honey between rhombus at once. Don't forget about edges! Leave until the honey soaked. I usually leave for night.