Purely Spanish breakfast or Tortilla con patatas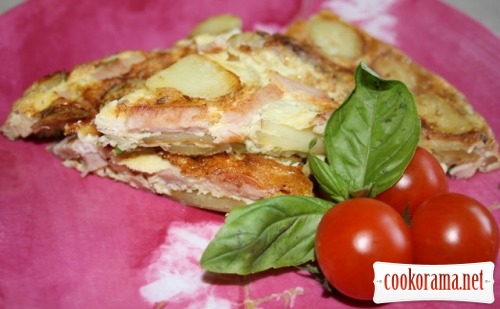 Ingridients
Tortilla con patatas —   purely Spanish cut in pieces omelette, usually it is 3-4 сm thick. It is usually eaten for breakfast. Though  it is often served in bars as one of the snacks tapas, and it is eaten as hot and cold. 

Preparation
Peel potato and cut  in small pieces. Heat oil in pan, spread potato, constantly stirring and not letting it brown, it should be soft, not crispy. Stir in bid bowl eggs (by hands), and now the main secret, remove potato from pan and shift on paper towel (to remove excess oil), now add potato to eggs and leave it for 15 min. Meanwhile fry in pan cut into strips ham. Gently spread in pan eggs with potato, sprinkle with chopped green onion. Reduce heat, once the omelette sizzles, slightly shake the pan, not to let potato stick to bottom. When omelette is ready, use plate to turn it. Cook for another 5 min.  Cut omelette before serving in pieces (like a pie), decorate with fresh vegetables and greens and serve! Bon Appetite!
Top of recipe "Purely Spanish breakfast or Tortilla con patatas"