Mushroom gravy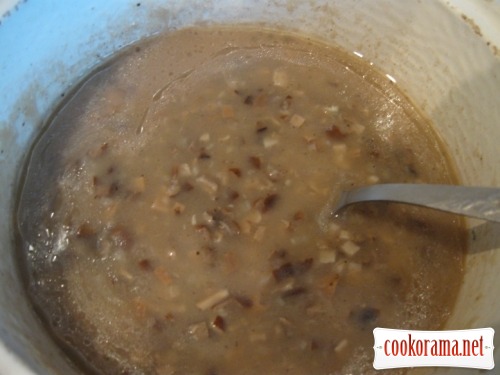 Ingridients
0,5 glass
0,5 glass
2 spoon
1 шт.
2 spoon
Preparation
soak honey mushrooms and mushrooms in separate dishes
After swelling, pour water, pour in bowl (again separately) pour with water and boil till readiness (white — for 5 min, honey mushrooms – for 15).
Strain mushrooms, pour water from mushrooms in separate bowls.
Dice cooled mushrooms finely.
Peel and chop onion.
Pour oil in a pan with thick bottom or iron one, heat it, add onion and fry till golden color. Add all the mushrooms
Mix it, salt, pepper and fry a bit, for a few minutes.
Pour broth from honey mushrooms
And dry flour in pan to get slightly creamy shade
Mix flour with broth from white mushrooms, to avoid clumps.
Pour into mushrooms, add salt to taste, add crumbs of nutmeg. Let it boil for a minute and gravy is ready.
Serve with vareniki stuffed potatoes, cabbage, to cabbage rolls.
Bon Appetite