Duck legs with plums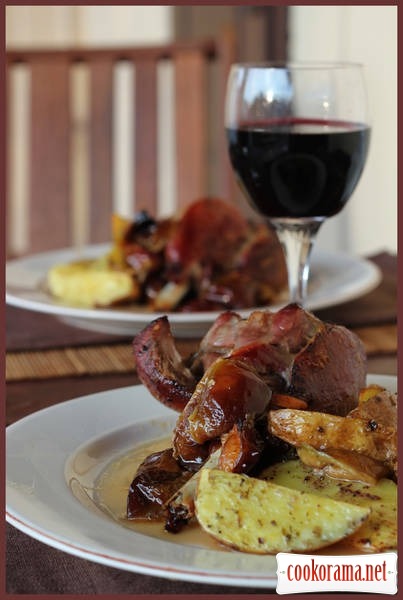 Ingridients
4 шт.
1 шт.
1-2 шт.
30 g.
2-3 шт.
16 шт.
20 g.
80 g.
40 g.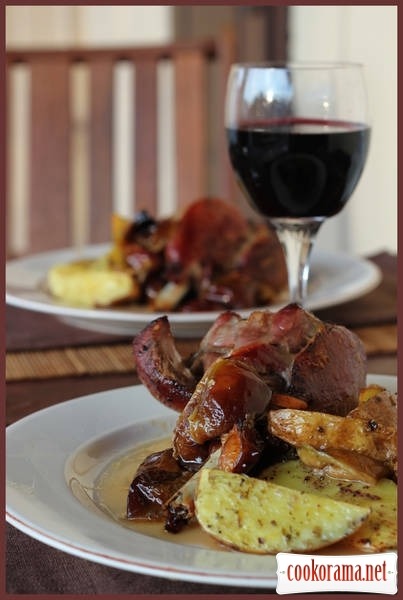 This recipe is from by Jamie Oliver needs time, but very simple and delicious. And, as we have weekends, let`s cook a little.
In original recipe were duck legs, but I couldn`t find fresh, while the shop had excellent turkey legs. Considering, that they are much larger, instead of 4 duck legs we`ll take 2 turkey`s.

Preparation:
Remove the skin of the legs. Marinate them in oil, sauce and all spices (including anise and cinnamon). Leave them in a cool place,at least for 2 hours, better – for a day (that`s why I told needs time). Put in the pan halves of plums and sliced chili, add sugar, marinate, mix it and put the legs. That`s all. Put it in oven (170℃) for 2-2,5 hours, until the meat begins separate from the bones.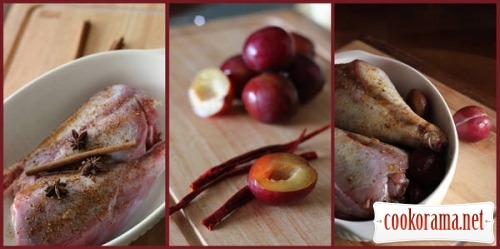 From time to time check the sauce, because plums can be different. But as for me they`ve got enough juice. Serve with a salad or side dish.
I forgot that it should be baked for so long, so I didn`t have time to follow the recipe and it was in the oven about 1 hour 45min. It was well baked, but the sauce was still liquid and not thickened, because the liquid did not evaporate as it should. Next time I`ll pay attention to watch. And another one. Chili, which is baked for so long, gave all the possible spice, so I would reduce it in twice. Fans of chili can leave this amount. In general, dish is unbelievably tasty and simple. I advise you to cook it.</>