Chicken roll in tetrapak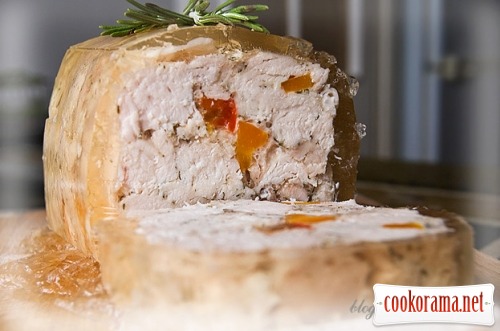 Ingridients
Preparation
Remove bones in chicken meat and cut in small pieces. If you wish, you can remove skin. This time, I made roll from chcken fillet, it is drier, but also very tasty.
Salt and pepper meat, add diced Bulgarian pepper, dry gelatin and mix.
Spread meat in a box from juice (or milk). The package should be well soldered, that it does not fall apart when frying. Pre-cut in a box top and wash it. Tetra Pak must be filled with meat not up to the top, so it is convenient to close and seal the package with a stapler.
Put package in a saucepan with a cold water. The water level in a saucepan should be slightly higher than the meat in the package. If the box will hang in a saucepan, it may be pressed with something.
Since the boiling, roll is prepared for about 1 hour.
Cool the ready roll, without opening the package put in the refrigerator for 3-5 hours, to freeze gelatin. Cut off the top of the bag and gently remove roll.
Bon Appetite!
P.S I have tried to use instead of Tetrapak beer can 0,5. Cut off the top and filled with meat. Closed top with a piece of parchment and strengthened with rubber. I liked to use Tetra Pak, as beer can is not stable and it is not so comfortable to get it out.