Curdcake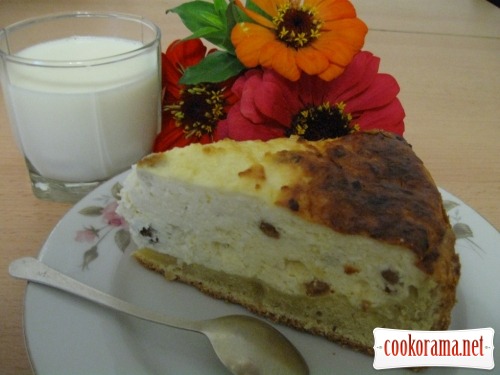 Ingridients
Dough
3 glass
375 g.
4 шт.
0,5 glass
2 spoon
1 tsp.
Curd mass
1,25 kg
6 шт.
10 spoon
2 spoon
2 spoon
2 spoon
150 g.
1 шт.
Preparation
Dough:
Mix flour with margarine, add powder for cookies, sour cream and yolks mixed with sugar. Stir all until smooth consistency, put in the fridge for 30 min.
Curd mass:
Preparation: Add semolina to curd, starch, butter, yolks, mash all well; add raisins, grated lemon peel and lemon juice, mix again. Mix 10 whites with 10 tbsp of sugar into thick foam (to mix whites well, better to mix them cooled and necessarily in a dry bowl; at first mix whites, then add sugar and mix again). Add small portions of whites into curd mass, stirring from top to bottom.
Grease form with lard, sprinkle with breadcrumbs (I use from with 30 сm in diameter, 7 сm height, if to take smaller form, better make 0,5 of curdcake portion). Roll dough, shift in form,
pour curd mass
and bake in the oven at 200℃ for about 1 hour.
As it cools a bit, remove it from form.
Bon Appetite