Crambles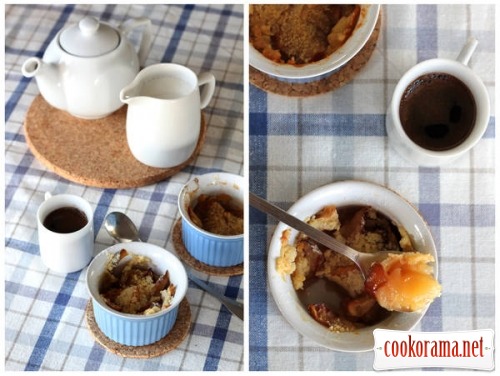 Ingridients
Preparation
Why these crambles are so winderfull? At first, it`s an ideal addition to morning coffee-tea – you don`t need a lot of dishes, to noise by mixer, etc, all is very simply and quickly. Secondly, these pies heat well in microwave in a minute and do not lose their shape and taste. Thirdly, it is an ideal method of fruit disposal, which were left not enough for a large pie, have already started to deteriorate and apple not as good to eat it, etc. So, the recipe of crumbs:
This is enough for one large form, for me was enough for 6 molds yesterday, 6 today, and, I think, remained for another 3
Finely chop all this, grind in crumbs and sprinkle on top cut fruit. You can decorate fruit with anything you want, for example, today I added to apples plums and glass of rum in each mold, spoon of honey, few drops of lemon juice. Bake for about 30 min at 180 С, but watch, not to burn golden «cap». As a result, middle becomes delicate sauce with creamy flavor and crumb — delicious crunchy crust. Very simple and very tasty.
583

15 October 2010, 11:14