Chocolate-coconut pie / Schoko - Kokos Duo - Schnitten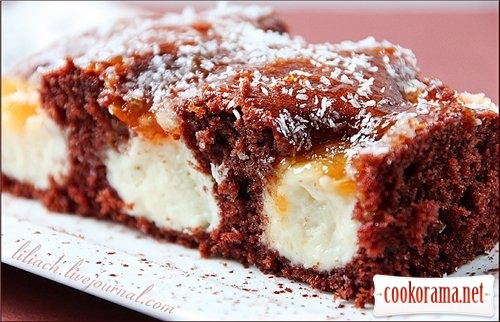 Ingridients
Ingridients
3 шт.
100 g.
60 g.
130 g.
1,5 spoon
7 g.
1,5 spoon
75 ml
Decoration
1 spoon
25 g.
Cream
20 g.
50 g.
125 ml
50 ml
25 g.
150 g.
Delicious, the gentliest pie with juicy coconut «balls»)


Preparation
At first prepare cream:
Starch or pudding dilute in 3-4 tbsp of coconut milk, put the rest on heat with sugar and bring to boil. Constantly stirring, add starch, also stirring, pour juice and coconut, boil for another 1 min. Remove from heat, cover with film, to avoid " crust " and cool. Mix sour cream in.
Put in a cooking bag. (I put just in a bag and cut off the corner)
Turn the oven at 180°. Grease square form (20х30х4сm) with butter.
Preparation of dough:
Mix butter with half of sugar, add yolks and mix. Mix in separate cup flour, cocoa and baking powder and sift on yolks. Mix white with rest of sugar, carefully add in dough. Pour water, rum.
Now we have to look at the consistency of the dough and cream — it should be about the same, if the dough is thicker, then add water (I did not add rum).
Spread dough in form. Press cream from bag on dough (put more, it is enough).
Bake for 30-35 min.
Let it cool in form, pull out, grease with apricot marmalade or honey, heat a bit in micro and sprinkle with coconut.
Cut along pie, to get a beautiful brown and white drawing.
Notes:
I smeared pie with jam when it was hot, then there is no need for micro и and sprinkle with coconut.
If cream is too thick, add some coconut milk.
source: Olya-jalo from jazzcook, she found it on chefkoch.de
Top of recipe "Chocolate-coconut pie / Schoko - Kokos Duo - Schnitten"