Apple fantasy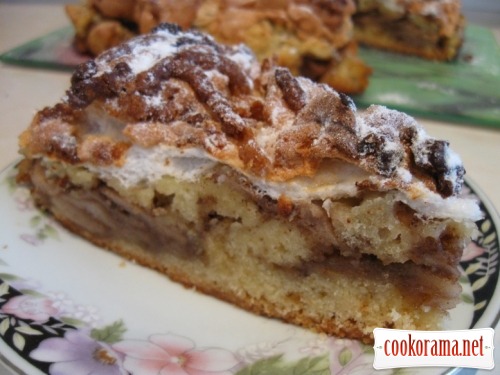 Ingridients
Dough
300 g.
150 g.
150 g.
3 шт.
5 g.
Filling
500 g.
7 spoon
2 tsp.
2 spoon
3 шт.
Preparation
Stir flour with margarine, add yolks, sugar, powder for cookies, juice from half of lemon
Knead dough, divide in 2 big and 1 smaller part, form balls and put in the fridge for 6-8 hours.
Cover form with parchment paper, grate 1 big ball of dough
Sprinkle peeled and sliced apples with sugar, cinnamon and bread cumbs, stir it
Put on top of the grated dough in form
Grate on top 1 big ball of dough
Mix whites, add sugar and mix all well into steep foam
Gently spread mixed whites in form
Grate on top third small ball of dough
Bake in heated at 180℃ oven for 30-40 min. Let it cool a bit, remove from form.
My form is not split, so I removed with help of parchment paper (do not flip)
You can top with sugar powder (about 2 tsp)
Bon Appetite!