Pizza pie with vegetables and sour cream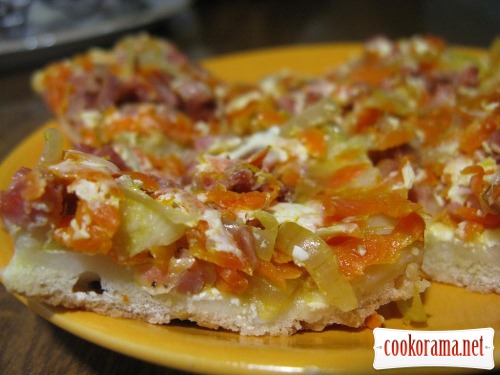 Ingridients
Dough
1 tsp.
100 ml
1,5-2 glass
20 ml
0,5 tsp.
Filling
1 шт.
250 ml
3 шт.
3 шт.
200-300 g.
Preparation
Dissolve yeast and sugar in warm water. Let it stay for 10 min in warm place. Add half of flour, salt-pepper, oil, knead and add rest of flour, to get fine, soft, elastic dough. Let it rise, meanwhile prepare stuffing.
Stew onion and carrot, chop zucchini and sausage.
Spread form in dough and let it stay for 10 min. Then pour with sour cream (I cut a small corner of the package of sour cream and pour a thin stream), spread zucchini, add salt, pepper, pour with sour cream again, then onion-carrot, sour cream, sausage and again sour cream.
Bake at 180-200℃ for 20-30 min.
I cooked this dish for hen party (got the diploma and celebrated the anniversary of Cookorama). I cooked at home, and visited
Masha
, thet`s why such a difference in photos)) And we had a lot of fun!!!