Tazhin with beef and vegetables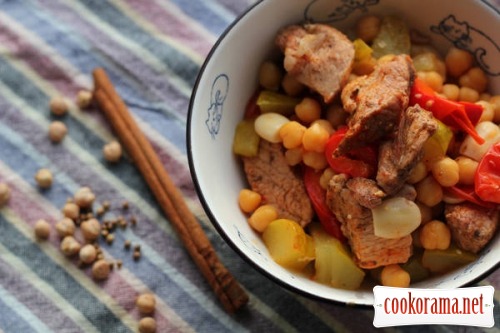 Ingridients

At once I want to note — authentic Tazhin is cooked in Moroccan pots of a specific form, which gave the name to the entire dish. Since such a thing, I do not have, so prepared as advised Jamie, in sauté pan. By link you will find its original recipe, mine — is just a variation.

Preparation
This dish requires prior preparation. In the evening rub sliced meat with spices and leave to marinate. Pour chick peas with warm water. Expect that it will increase in 2-2.5 times after swelling. In the morning change water in chick peas, also change before cooking. In the afternoon you can start. My miscalculation was that because of time required by this dish (recommended three hours) I boiled chick peas in advance. And it was not very dry and became edible in hour and a half of thermal processing, which did not allow boiling of sauce and it`s thickening. That means that all products were fresh, except half boiled (40 min.) chick peas.
In a big saucepan fry meat on oil with onion and coriander. While it is fried, cut into pieces (freeform and size) squash, tomatoes and peppers. Add the vegetables to the meat, pour chickpeas, almonds, sprinkle with sesame and fill with water, where was cooked chickpeas (ideally — broth, but I did not have it at that time ) so that it covered the whole spectacle of colors.
Bring to boil, cover with lid and let it stew on a low heat for hour and a half. Check it from time to time, to avoid boiling of chick peas. I wished not to boil it in advance, it will manage 3 hours, as recommended to tazhin(in half and an hour pour liquid, not to fry, but stew tazhin), and meat becomes gentle and tasty. But in the end it turned out very well. I`ll cook it again, but next time I won`t boil chickpeas, but take canned tomatoes in their juice. Bon appétit!