Stake from pork neck with cognac sauce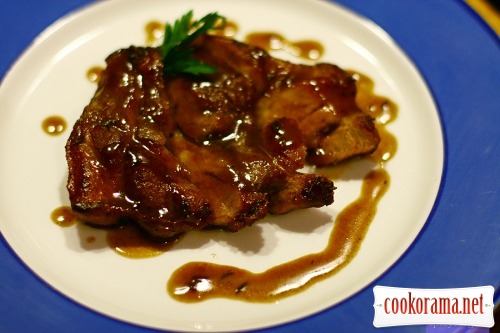 Ingridients
Pork neck is good not only for shashlik. Streaks of fat in the meat provide juicy results at the output, so it is madness not try to cook steak. And to add a little holiday, you can marinate meat in cognac, cognac is then very easy to cook sauce. Someone might scare imaginary complexity of cooking the sauce, but it is worth a try just once, and then you do it again and again.


Preparation
First you need to marinate meat. It's very convenient to use food plastic bag. Pepper steak and place in a bag or bowl. Tear off the leaves from the thyme sprigs, crush the garlic cloves and send them to the meat. Then pour half of cognac and a teaspoon of olive oil. Put meat in the refrigerator for 2 hours.
Remove the steaks from the marinade and dry it off with a paper towel. Heat the tablespoon of olive oil in a frying pan over high heat. Salt steaks and fry them, turning 4 times with 1.5 minutes on each side. Meat should be white, with a slight pink tinge. Set aside the steaks on a plate for a time, while preparing the sauce.
Now sauce. Preparation of sauces based on alcohol usually includes
deglazing
of pan, in which was fried meat. To do this, you must drain the excess fat from the pan, but be sure to leave the fry meat juices at the bottom. Put the pan back on the heat and pour in the second half of cognac. Wait until the alcohol is evaporated. This comes at a time when its pungent smell is replaced by a thin, sweet, pleasant aroma of grapes. Add half a cup of water and meat juices from the plate, where the steaks rest. Evaporate to a desired consistency.
Serve steaks, pouring with sauce and, if desired, accompanied by mashed potatoes.