"Kvikelta" or strudels in German style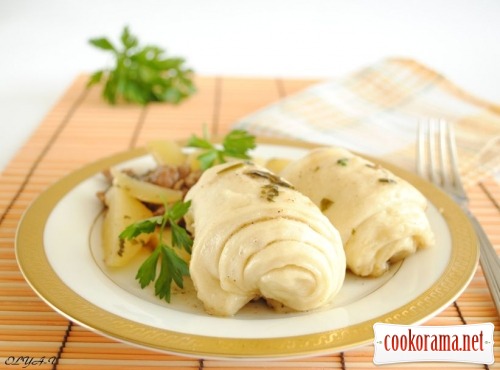 Ingridients
Dough
200 ml
1 шт.
1 tsp.
1 spoon
0,5 tsp.
0,5 tsp.
2-2,5 glass
Ingridients
400-500 g.
1 шт.
1 шт.
5-6 шт.


Delicious, flavorful dish of German cuisine.

Preparation
Dissolve yeast in warm milk, add salt, sugar, butter and egg, add portions of sifted flour, knead smooth and elastic dough, let it rise for 1 hour.
Cut meat in small pieces, fry a bit with sliced onion and grated carrot, pour some water and stew for 15 min.
Shift dough on greased with oil table, roll thin layer, cut in strips, grease with oil and make rolls (I got 9 pcs).
Add in meat salt and pepper to taste, mix it, spread on top the layer of cut in strips potatoes, pour water, so it covers potatoes a bit, on top spread seams down strudels, not close to each other.
Densely close the lid, reduce heat to a low, cook for 40 min, During this time, do not open the lid, otherwise strudels move down.
In 40 min turn off the heat and let it stay under the lid for another 10-15 min.
Bon Appetite! If you wish, you can add in shtrudli some sauerkraut or fresh cabbage, they can be prepared from chicken, or without meat, but only with potatoes and cabbage.