Brewery goulash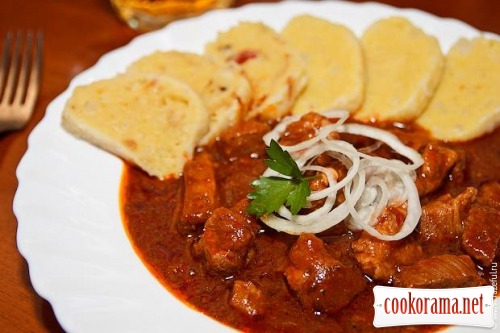 Ingridients
Goulash
700 g.
50 g.
2 шт.
3 шт.
1 шт.
0,8 l
40 g.
7 g.
40 g.
Dumplings
900 g.
250 g.
1 шт.
200 g.
1 шт.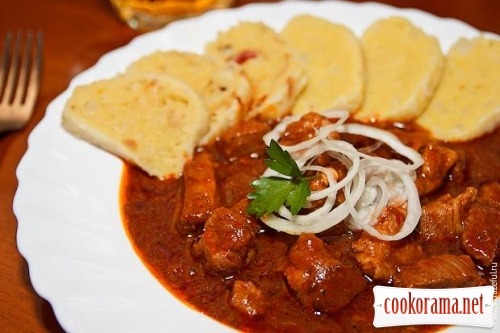 At leisure I`m mastering the Czech cuisine. I also suggest you, my friends, to join these experiments.
Generally, with this dish I want to start a series of recipes under the title «for beer»

I am opposed to drinking beer with chips, dried squid and other snack stuff. Not only because for health they bring nothing good, the flavor of this wonderful drink is spoiled with chemicals.
This recipe is remarkable not only because it is perfect for a beer, but also the fact that the beer it is a major component — the meat stewed in beer, or as the Czechs say «on beer.».

Preparation
I did not specify the type of meat. Goulash gets excellent as with pork and beef. There, it is made from beef.

Do not use for stewing «bad» dark beer, for example, Miller Midnight, Tuborg Black and etc. Find tasty dark beer. Preferably Czech. Porter is not bad. If you`d like the recipe, try with light beer.

Dumplings are a bonus to goulash. In the Czech Republic it is served with dumplings as a side dish. In fact, it will go perfectly with pasta, potatoes, rice, etc… If you are going to make dumplings, pre-boil the potatoes to cool them.

---
Chop meat in small pieces. About 2,5×2,5 сm.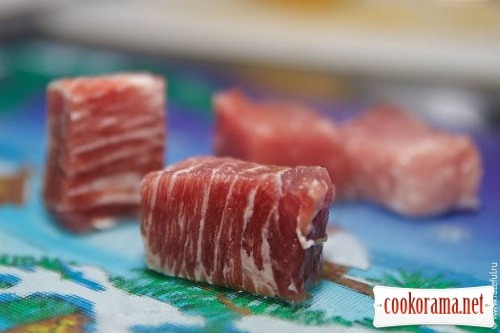 Chop the onion. Cut lard into small pieces.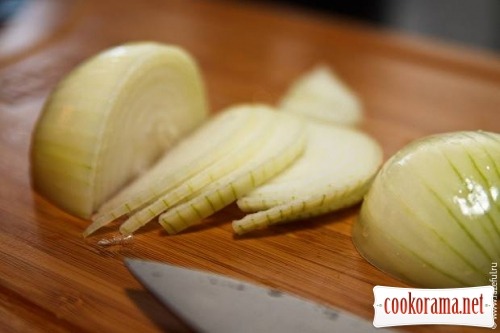 Place the pot-kettle on the stove and pour a little oil. Put there lard at first. Give it some time and add onions with cumin.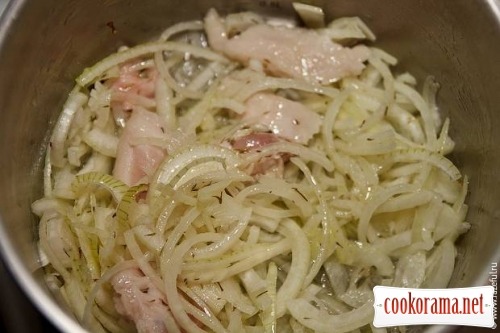 While the onion is cooking, dice the sweet pepper. Put it into the pot with a tomato paste. Mix it well and stew for a pepper to get soften.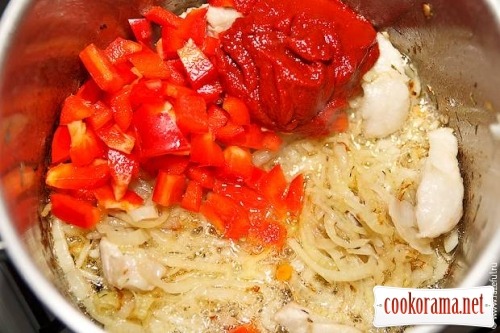 Then lay into prepared basis meat and garlic. Sprinkle with red pepper. As you wish. It`s all up to you. Add the bay leaf and stir well.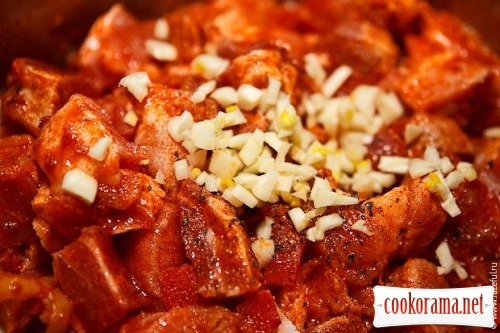 It`s time to pour beer in goulash! Beer should completely cover the meat, otherwise gravy it won`t become the delicious and thick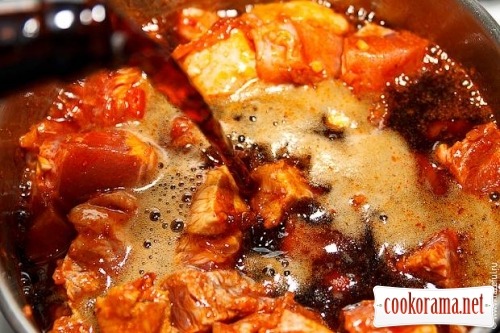 Close the lid, put on a small fire and let it stew till meat get soften. About 40-60 min.
Let`s not lose the time and make dumplings

By the way, a kilogram of potatoes get a lot of dumplings. They may be frozen in a freezer and cooked as required.
Peel cooked potatoes and mash them. Add salt, egg. And, gradually adding flour, knead the potatoe dough. It is difficult to say exactly how much flour will be needed. May need to add a little water if the dough is too dry. If the dough does not stick to your hands — it is ready.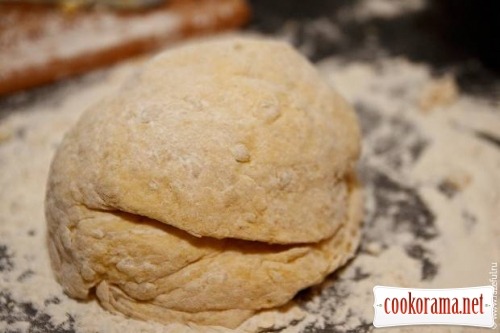 In the Czech Republic different dumplings are prepared. I like with onion, lard and bacon.
Cut the onion into fine half rings, bacon into strips and fry in a pan.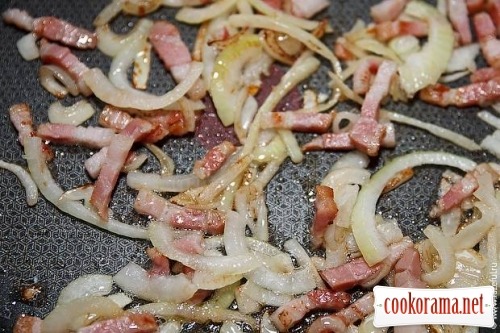 Divide the dough into two parts and one of them mix with fried onions and bacon.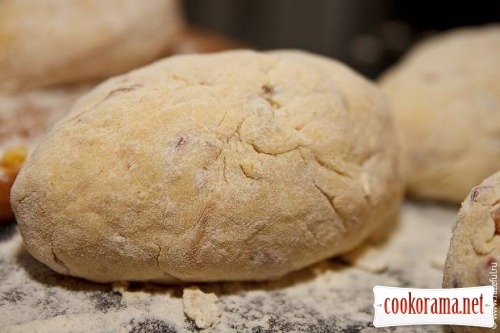 Form dumplings (size as pies) of two types — filled and unfilled. Boil in salted water of a desired number

The time varies depending on the size, approximately 20 minutes. Check the readiness of goulash. Thicken the gravy with two tablespoons of flour.
Goulash is served in large plates: the center is laid out with meat and flavored with lots of gravy so you can dip pieces of dumplings in it… Recommend yoy to decorate goulash with thin sliced bulb onion rings. Perfectly combined.
And, of course, do not deny yourself the pleasure — get a cup of cold tasty beer!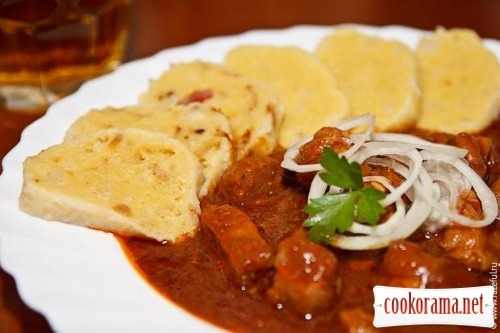 Bon Appetite!