Pork loin baked with garlic and star anise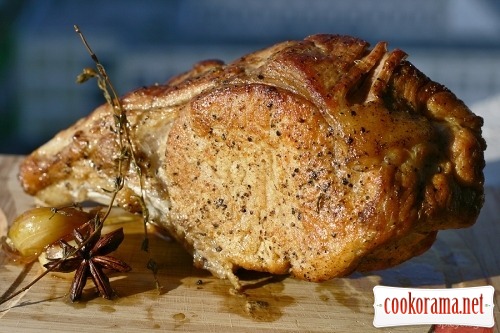 Ingridients
1 шт.
10-12 шт.
4 шт.
0,5 шт.
2 шт.
1 tsp.
1 tsp.
Undoubtedly, there are situations in life when there is a desire and ability to spend in the kitchen a bit more time than usual. Instead of worrying about how to prepare lunch or dinner, do not harm the rest of the plans, you can completely give yourself into search for perfection. For such cases, is ideal large piece of meat, which in a few hours in the oven reaches a peak of tenderness and richness of taste.

Preparation
I chose the pork loin, because the bones give extra flavor and the meat around them becomes very tender during prolonged heat treatment. However loin directly, i.e. gentle light meat inside of bone is essentially free fat. This meat is very easy to dry up, but with a few secrets in the sleeve, can bypass obstacles. If you only have cutlets on the bone separately, then I dare to recommend great
recipe
.
Heat the oven at 180° C. Pepper and salt pork from all sides. In a big pan heat well 3-4 tbsp of olive oil.
Disassemble the garlic into cloves and slightly press them with a flat side of knife. Coarsely chop fennel. Put on the bottom of a deep dish for baking garlic and fennel, add star anise, at the end, enter the thyme sprigs.
Fry meat till golden crust from all sides. This crust will keep the juice inside the meat. The main thing is not afraid to boldly fry meat until color of crust will shout you that dish will turn out good.
Put the pork in baking dish on top of the other ingredients, pour the meat on top with fat and meat juices from the pan. In order not to lose a single drop of taste, put the pan back on the heat and pour a glass of water. You can also use wine or brandy, but I do not want extra flavor at the moment. While the water boils, scrape with a wooden spatula from the bottom of pan residues of caramelized juices. This process is called deglazing.
The resulting liquid from the pan pour into a baking dish. Now we are building the foundation for a very simple, but very tasty sauce, which can be served with meat.
To ensure tenderness of loin, put from both sides of meat a slice of bacon. This fat will be the secret agent which keeps juiciness.
Cover the baking dish with a double layer of foil and place in the oven to bake for 1,5-2 hour. I recommend to take meat out from the oven each 30 min, remove foil and pour piece with juice from the bottom of dish. Thus, we are destroying any chance to dry up meat.
After such a long time you probably can not wait to sit down at the table. I need only 10 min of your patience. Spread meat on plate and cover with foil.
Meanwhile prepare sauce. Put dish, in which was baked meat, on the stove, pre-draining excess fat. Once the mixture comes to a boil, repeat previously committed actions with a shovel. Crush garlic and fennel, which are baked and became gentle and sweet. Then, skip all through a sieve, pressing vegetables and turning them into a puree. This puree will thicken your sauce. Put the resulted liquid on fire again and add mustard. Stir to homogeneity and then evaporate to the desired degree of density.
Remove bacon from meat, it has already done its work. A fennel and star anise supported by its refreshing spice natural sweetness of the pork. Absolutely all say about succeeding meal.
Serve with sauce and enjoy.
600

08 October 2010, 00:07