Torhonya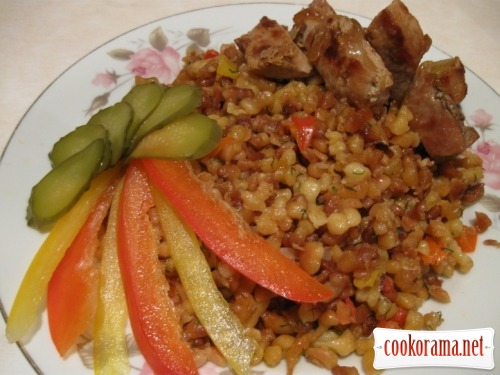 Ingridients
400 g.
5 шт.
40 g.
25 g.
2 g.
45 g.
35 g.
7 g.
8 g.
250 g.

Dish of Transcarpathian cuisine. I cooked it at first. Recipe captured me with unusual method of preparation. And taste, as my children said, «cool».
So…

(The book says, that from this amount of product you get 0,5 kilo of torhonya. I did not have time to weigh, but will be about for 8 portions)

Preparation
Knead steep dough from flour, eggs and salt. Let it stand for 2-3 hours.
Then grate small pieces (ball of 3-4 cm in diameter) of dough. To grate it easier, dip it in flour. Spread on baking sheet
And dry in heated oven at 170*, watch, not to burn.
Heat fat in wide saucepan (lard or oil), add dried torhonya and heat over medium fire. Add finely chopped onion
Fry for 1-2 min.
Pour ground red pepper
Stir quickly and pour with boiling water. Add diced sweet pepper and fresh tomato. (peel tomato)
Stir it, bring to boil, cover with lid and shift in oven heated at 180℃ for 20 min (do not stir). At the end of stewing add chopped dill and parsley.
Ready torhonya should be soft and crumbly.
Use as a garnish for meat.
Bon Appetite.