Puree-soup with lentils in coconut milk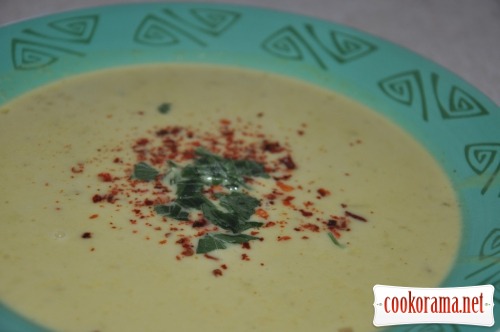 Ingridients
0,5 glass
1 шт.
1 glass
1 tsp.
2 spoon
0,5 tsp.
0,5 tsp.
1-2 шт.
0,5 tsp.
Preparation
1. Pour the lentils in a pan with a little turmeric and fry
2. Pour hot water (2 glasses), cook on a low heat till readiness of lentils for 15-20 min;
3. Meanwhile dry coriander and zira, grind in a mortar. In the melted butter over medium heat fry the finely chopped ginger, pepper, garlic, almost in a minute add the onion and cook onion until soft, add and quickly fry-ground spices.
5. Add the contents of the pan to the lentils, add coconut milk, stir well, add salt (If you wish bring down to the consistency of puree with blender), boil a couple of minutes, remove from fire.
6. Serve, sprinkled with sweet paprika and parsley.
Taste of this Indian soup reminds me a taste of Thai soup. So lovers of eastern cuisine will enjoy it. Moreover it is prepared quickly, just in 30 minutes.