Fish zrazy with sausage cheese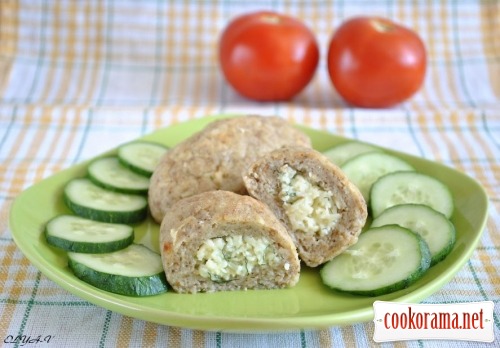 Ingridients
500-600 g.
2 шт.
0,5 шт.
3 spoon
3 spoon
100 g.
2 spoon


The recipe is by sigma002 from site Cook, these zrazy are very tasty, juicy and dietary

Preparation
Mince fish fillet with onion, add egg, hard chucks, milk, salt and pepper. Mix all well and beat the mince on the table, put in the fridge.
Grate boiled egg and sausage cheese, add chopped dill and sour cream, mix all well.
Grease baking sheet with butter, sprinkle with chucks (or cover sheet with parchment), heat the oven at 200-220 degrees.
Wet hands to make flat cake from mince (just do not make it too thin), put some stuffing inside.
Pinch the seam well, bring it to oval shape, roll in flour, spread on baking sheet. On the top of each zraza put a piece of butter.
Put in the heated oven, bake for 20-25 min.
Bon Appetite!