Meat roses on kefir-soda batter with an interesting sauce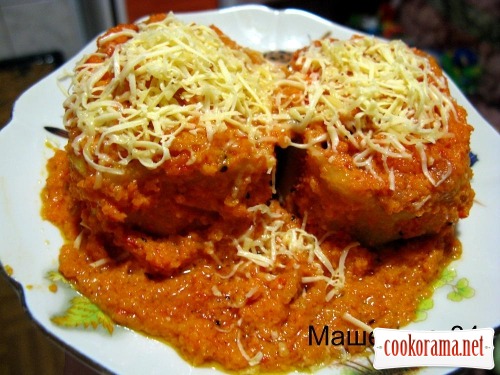 Ingridients
Dough
200 ml
1 шт.
0,5 tsp.
Filling
500 g.
100 ml
2 spoon
1 шт.
1 шт.
1 шт.
Sauce
3-4 шт.
1-2 шт.
1 шт.
1 шт.
2-3 шт.
1-2 шт.
2-3 spoon
Preparation
DOUGH:
Make in flour a deepening and pour in it kefir mixed with soda, add salt, egg.
Knead dough, like for varenyky and let it stay for 30-40 min.
STUFFING:
Chop onion and carrot, add mince and spices, mix it.
Pour with boiling water, mix with spoon and let it stay for 5 min.
Add kefir and egg, mix well.
SAUCE:
Grind all the ingredients in blender or cut in pieces, as you wish.
Stew for 3 min on medium heat, in oil.
Add sour cream and spices, stew for another 3 min.
ASSEMBLY:
Sprinkle table with flour and roll dough in layer of 0,4 — 0,5 сm.
Spread the stuffing on it.
Make a roll.
Cut roll in pieces of 2 — 3 сm.
Roll each piece in flour brom both sides and spread in baking form, not too close.
Pour with sauce and put in the oven for 40 — 50 min at 180 — 200 C.
Serve it hot, sprinkle with chopped greens and cheese.
Bon Appetite

Top of recipe "Meat roses on kefir-soda batter with an interesting sauce"