Tartlets with curd cream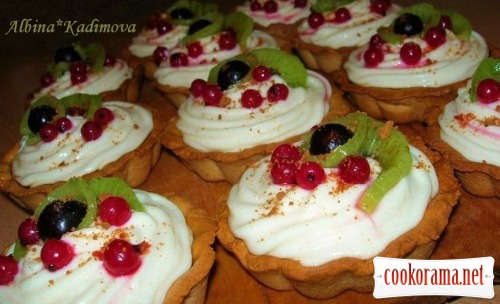 Ingridients
Dough
1 шт.
2 spoon
75 g.
2 spoon
1 tsp.
0,5 tsp.
2-3 шт.
1 glass
Custard cream
1 glass
1 шт.
0,5 glass
1 spoon
Butter-curd cream
250 g.
250 g.
10 g.
10 spoon
Preparation
Mix all the ingredients, to get crumby mass.Dough should be soft. Roll dough at about 3 mm thick, spread in molds (I used silicone ones), and bake till golden brown.
Custard cream:
Put in heat, constantly stirring, bring to boil, cool it.
Butter-curd cream:
Stir all and mix well.
Combine with custard cream.
Pour in basket melted chocolate, fill with cream, spread berries on the top, sprinkle with chocolate or grind cookies.
Bon Appetite!