Honeycake "Funny cake"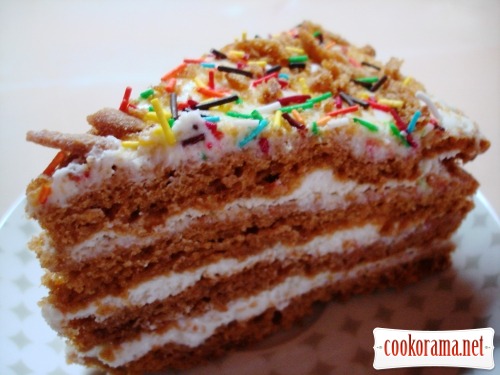 Ingridients
Dough
100 g.
2 шт.
100 g.
2 tsp.
200 g.
450-550 g.
10 g.
Cream
500 g.
200 g.
10 g.

thickening agent for sour cream

10 g.

I carefully looked through offered on site variants of honey cakes and decided to put mine and, maybe it will come to someone's taste.

Preparation
Put eggs on water bath + sugar + honey + soda + margarine
I recommend to mix, not to «boil» eggs
Leave workpiece for our dough in a water bath
Till mass increases in few times
Remove from bath and add flour and vanilla sugar
Mix it
The dough is not steep, spread with spoon ¼ part on baking paper, roll a flat cake, constantly adding flour, to avoid sticking to the rolling pin
And so four times
Bake at 180℃ for 5 min, cakes are thin, are baked fast
Remove paper from redy cakes
if necessary align to form (cut the extra edges)
And wait to cool them.
Mix sour cream with sugar, vanilla sugar, and powder for thickening
Smear cakes with cream
Decorate it, this time I used the grinded remnants of cakes and festive caramel powder
Such a funny cake.