Lean pate "Orange" (2 years of my life on Cookorama)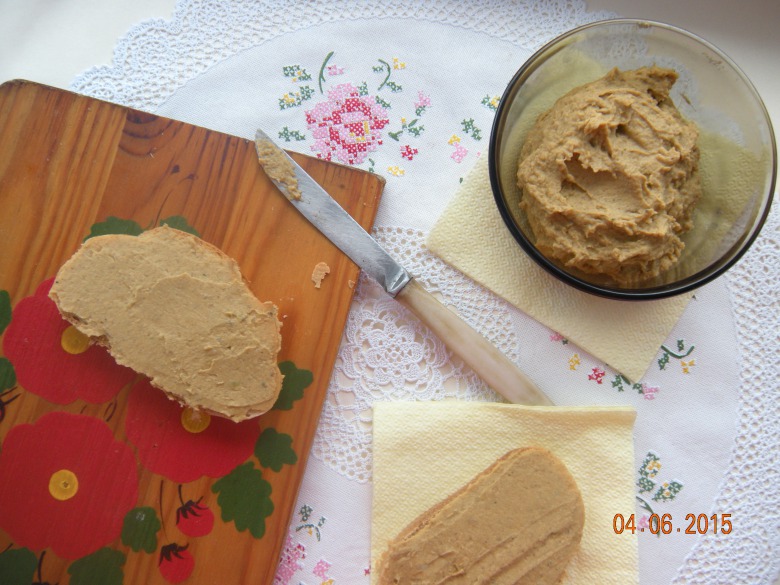 Ingridients
1 tsp.
0.5 glass
0.5 glass
0.5 шт.
5 spoon
1 tsp.
Today are 2 years since I`m with Cookorama. Two years seems to be short time, and so much happened. Can`t remember all. So many happy moments experienced… and many tears shed. But today only about good.
Before acquaintance with this site I did not like to cook and did it with such powers, but looking at great pictures of delicious, beautifully decorated dishes by members of this community I decided to prepare such dishes. Of course, not all managed (and now I can make something special, which is surprise even for me) and was giant number of spoiled products and nerves spent not less, but observing my first dishes and first pictures I can say that there is some progress.
And using the moment I want to thank Lesia for her advices and support. She is a wonderful cook and an even better friend. Generally there are a lot of good chefs on site and for me, as a beginner in this business, there exist examples from whom take advices and for which peaks to seek.
In honor of my anniversary I want to share with you recipe of pate, which deal with hunger and bring mood up.

Preparation
Boil beans and peas, fry onion with mushrooms and put all this in blender. Add salt, pepper and aromatic herbs, grind all. I add paprika and oil, while working with blender. With paprika pate gained good red — orange color. For me such pate tastes with borsch well. This is certainly not a masterpiece and not high cuisine, but I'm not also a super chef.
Top of recipe "Lean pate "Orange" (2 years of my life on Cookorama)"
825

06 April 2015, 15:25