Manna-cake from microwave with zephyr cream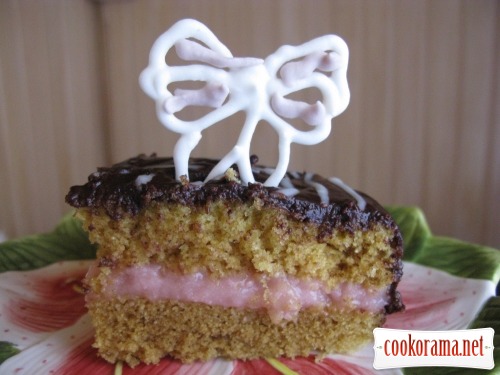 Ingridients
Dough
0,5 glass
0,5 glass
0,5 glass
0,5 glass
1 шт.
100 g.
0,5 tsp.
Cream
150 g.
150 ml
1 tsp.
Glaze
4 spoon
3 spoon
100 ml
40 g.
Preparation
And also figures from
icing
.
I took recipe of dough from
this one
recipe.
Combine and mix all the ingredients for dough, let it stay for 20 min.
In original recipe was said, to mix whites separately, yolks and butter/oil add at the end. I tried to do so,there is no difference, just spend more time and dishes.
Grease out bowl with butter and sprinkle with flour, you can use semolina, but then that semolina will be visible.
I have 15 сm form.
Pour dough and put in the microwave for 6-7 min at power of 700 — 800.
So the flat cake shifts a bit from walls.
Remove form from microwave and cover our manna with towel for 10 min.
Remove it from form and cool down.
Cut in 2 — 3 parts.
For cream dice zephyr and pour with milk.
Stirring constantly, let zephyr to melt totally.
Dissolve gelatin in a minimum amount of water, heat in microwave and add to cream, stir and let it stay a bit in the fridge.
It freezes completely, just becomes thick.
Smear our flat cakes with cream.
Prepare glaze, combine all the ingredients, stirring constantly, to melt sugar.
Smear our cake, on top and from sides.
I have also made a cobweb on the surface. Spoon of sour cream and spoon of sugar.
Decorate with figures from icing, I had previously made.
Bon Appetite to all

I love manna-cakes from microwave very much, quickly, simply and delicious. Flat cakes are wet, so they do not require additional impregnation.
672

06 October 2010, 11:24