Gingerbread House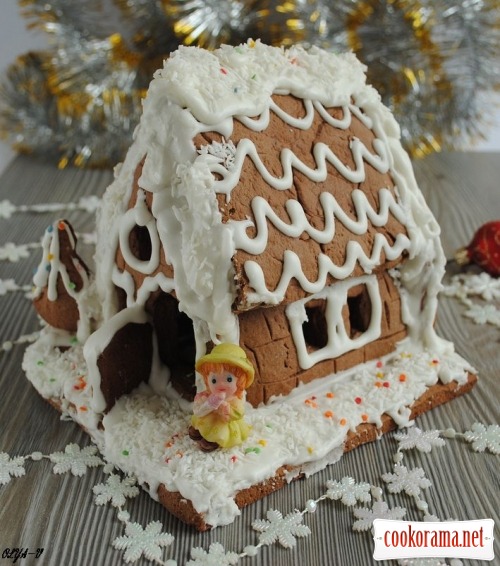 Ingridients
Ingridients
100 g.
110 g.
40 g.
40 g.
5 g.
3 g.
400 g.
5 g.
3 g.
3 g.
3 g.
Icing
1 шт.
200 g.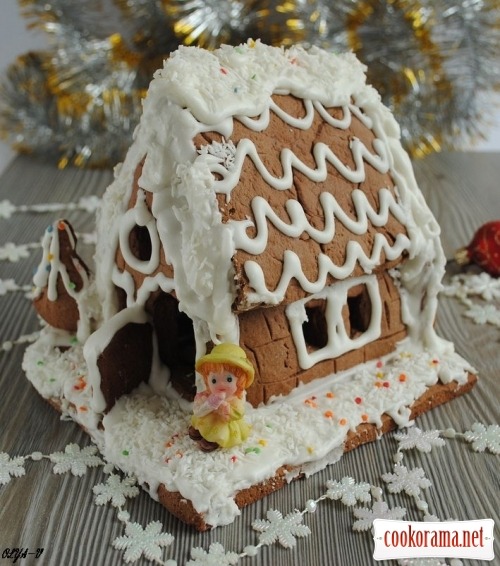 Preparation
Combine in a saucepan honey, sugar and margarine. Stirring, heat (do not boil!) till sugar and margarine melt, and mass become smooth. Pour mass into a bowl, cool a little, for it to be warm but not hot, add mixed egg, salt and stir well.
A glass of sifted flour mix with soda, cocoa and spices. Add to the honey mixture. Stir and add flavor. Then adding remained sifted flour knead the dough at first in the bowl, then on the table, adding flour if necessary. Knead dense, smooth and elastic dough as plastilin to the touch. Cover the ready dough with foil and put in the fridge for 3-4 hours, even for a night.
Cut out from a cardboard blanks for future house.
2 details for roof with sides 9 сm., and 12 сm.
2 sidewalls with sides — 10 сm., and 4.5 cm.
2 details of facade with sides — 11 сm., 4.5 сm., and bottom 8.5 см.
I made photos and painted by myself in editor.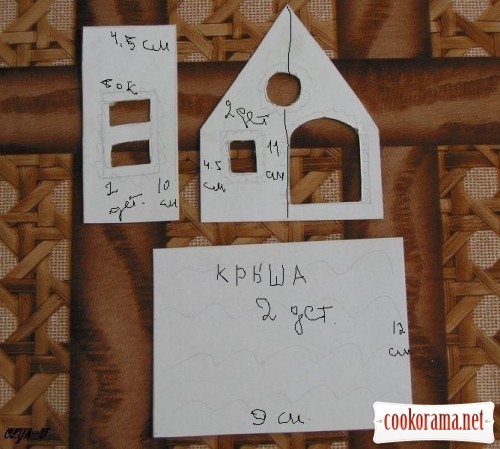 Then heat the oven at 180-200 ℃. Dough might be a little bit hard after fridge, so you should knead it a little. Roll dough at about 0.5 сm. thick, cut out the figures, make windows and doors.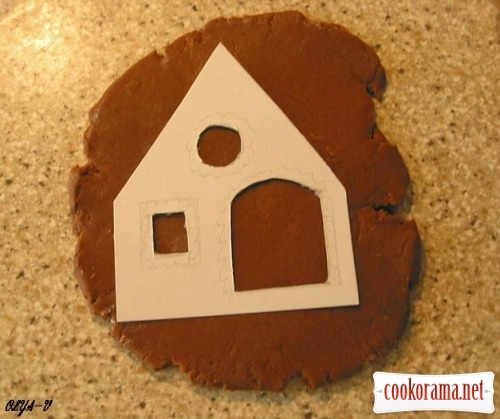 Cover the pan with a greased oil paper and put details on it.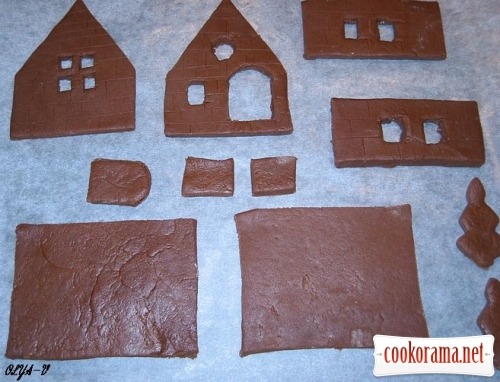 Bake for 10 min, till readiness. Cool the ready details well. From the remained dough made a stand for a house. You can bake ornaments, Christmas trees for example.
You can use marmalade for windows.
For icing, stir white with a fork a little (do not mix), add portions of powder, each time, rub it well with a spoon or spatula, until the mixture becomes like thick cream. In the end, add the lemon juice. It is comfortable to add mass from a milk package, with a cut off tip.
Stick marmalade windows with the help of icing from inside.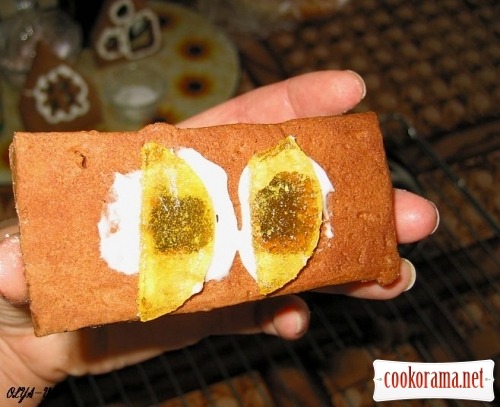 At the same time you can paint the roof, windows and doors.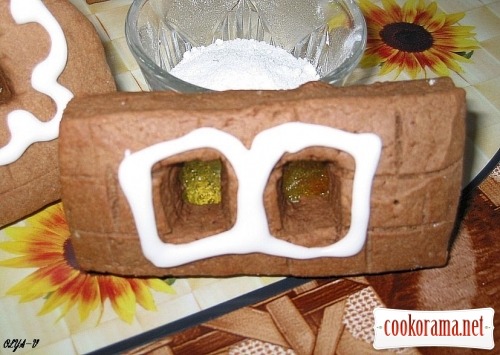 Stick the walls to the stand with a help of icing, prop up with glasses, the mass dries quickly.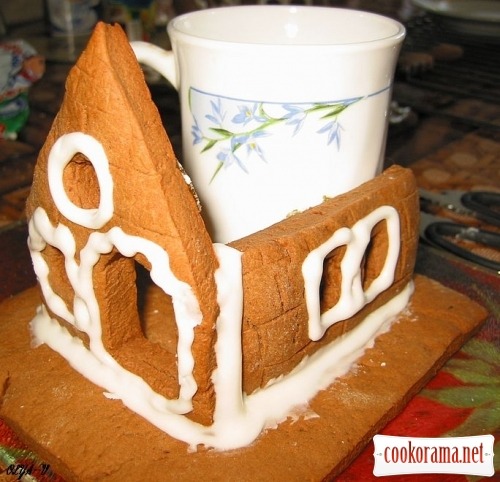 Then add other walls to this construction. The last and the most difficult is the roof. I hardly made it, I hold one part till it dries, and then stick the other part. All slots I filled with icing.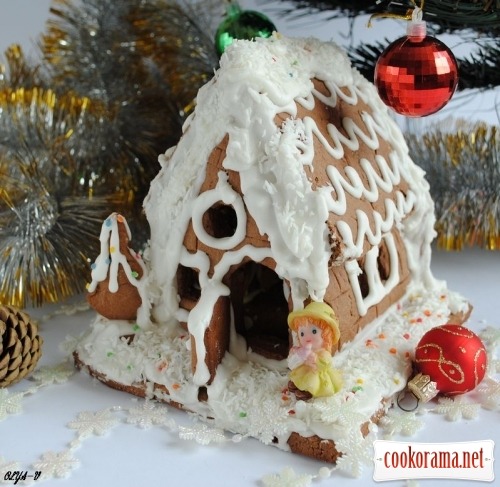 Leave it for a night to cool.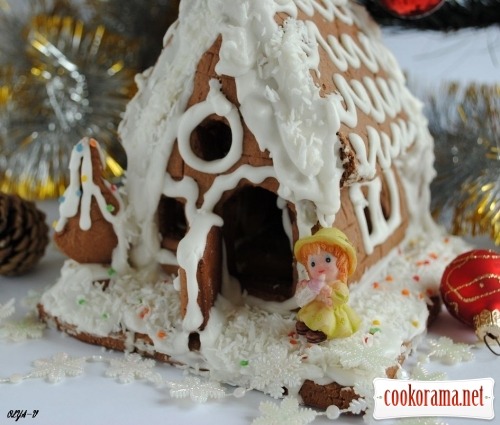 Then you can pack it and make a present for someone.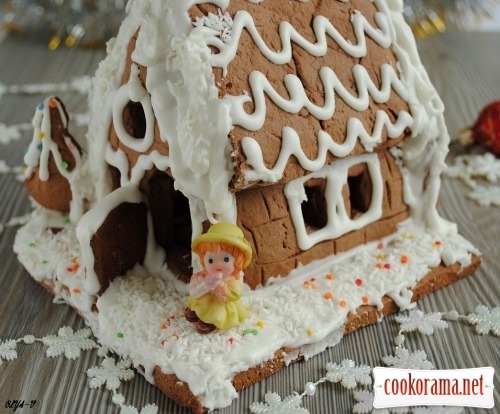 Happy New Year!!!