Wicker with poppy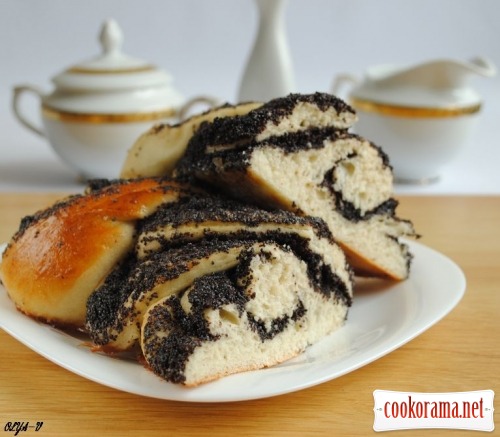 Ingridients


The recipe of dough is by this recipe

Preparation
Knead dough, let it rise as indicated in the recipe.
Pour poppy with boiling water, cover it, let it stand for 5-10 min, then drain from water through a sieve, cool and mince it through a meat grinder, add sugar and egg, stir it.
Knead raised dough, shift on sprinkled with flour table, divide in 3 parts.
Cover baking sheet with oiled parchment. Roll one part of dough in rectangular layer, grease with butter, stepping from the edge, spread evenly third part of stuffing.
Wrap a roll seam down, next cut roll with a sharp long knife not till the end.
Then fold the edges together stuffing up, pinch the ends and tuck underneath, shift it on baking sheet.
Do the same with rest of dough. Let them stand for 20 min in warm draft-free place.
Heat the oven at 180-200℃, bake till golden color.
Cool ready wickers.
Cut in portion pieces.
Bon Appetite!