Fingers with cherries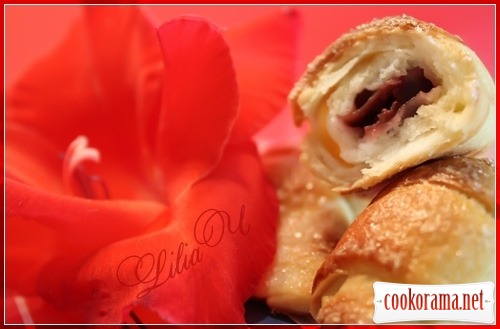 Ingridients
1 glass
1 tsp.
2-3 шт.
200 g.
Crispy sweet crust on top and soft sour core inside


Preparation
Dissolve the yeast in warm milk, add soft margarine, eggs and flour. Knead dough and divide it in 8 parts. There is no need to let it stay. Roll one of them and and cut diagonally in 12 sectors. Spread stuffing (my adore cherries, can be fresh berries, or out of a jam or compoteа) from the wide side of each "sector" and wrap them. Spread on baking sheet, grease with egg and sprinkle with sugar. Put in heated at 180* oven, for about 15 min.
I took tsp of yeast, 0,5 kilo of flour, sugar to taste, for the sweet tooth «slightly» not enough..

Source is Gerda from forum u-samovara