Bagel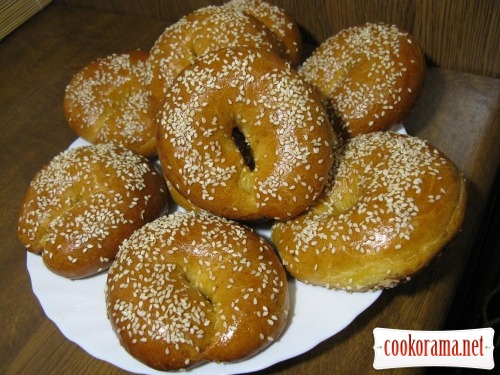 Ingridients
300 ml
2 tsp.
2 spoon
2 spoon
50 ml
0,5 tsp.
5 glass
Preparation
Combine warm milk with yeast and sugar, let it rise in warm place (you can avoid this if you use instant yeast).
Add rest of ingredients and only half of oil.
Knead dough.
Grease the top with rest of oil and put in warm place to rise.
Knead dough, add some flour if necessary and knead good yeast dough on table.
Grease hands with oil and form small balls from dough.
Next, do as it is shown in photos

Put in warm place to rise, grease with egg and sprinkle with something tasty, I used sesame.
Heat the oven at 180 — 200℃, bake till golden brown, for about 20 — 25 min.
Cover ready bagels with towel and let them cool.
Bon Appetite to all

Original bagels are made big, from this dough about 3 — 4 pcs, but for us they are too big.
Also instead of greasing with egg, they are dipped in water and put in plate with sesame and only after that, spread on sheet with sesame side up.
There will be delicious to sprinkle with chopped nuts or shtreyzel.