Egg "Benedict" with chicken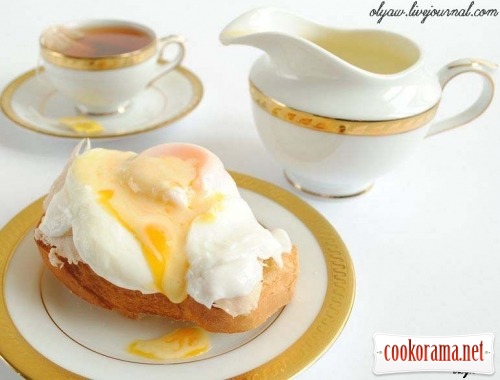 Ingridients
Ingridients

white bread (slices, fry in a toaster)

2 шт.
0,5 шт.
2 шт.
Sauce hollandez
2 шт.
70 g.
1 tsp.


The classic recipe uses ham, I replaced it for boiled chicken breast, it turned out very tasty.

Preparation
Pour in saucepan water at 2.5-3 сm of height, bring to a boil, add few drops of vinegar, reduce heat to minimum, to see slightly visible bubbles from bottom. Break egg into a bowl gently, try not to damage yolk, carefully pour egg in water, if saucepan is quiet wide you can boil 2 eggs at once. Boil for 1 min, next turn off the heat, let eggs stand in water for 10 min.
Meanwhile prepare sauce. Melt butter, bring to almost boil, but do not overheat. Mix yolks with lemon juice, put on not strong boiling water bath, mixing or whisking well, pour melted butter, mix till mass becomes fluffy and airy.
Slice chicken breast with sharp knife, salt a bit and sprinkle with black pepper. Smear slices of bread with thin layer of butter, top with chicken fillet, gently get out egg from water with a slotted spoon, dry bottom of slotted spoon with paper towel to remove water, shift egg on meat, carefully pierce yolk with spoon, not to leak it, pour all with warm sauce, serve it.
Enjoy your breakfast!