Potato chips + bonus - apple chips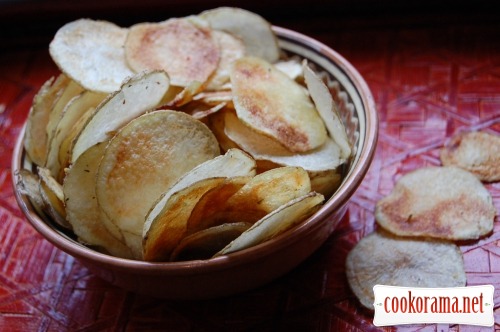 Ingridients

I offer another trouble-free dish cooked in the microwave. Chips that are prepared without excessive amounts of fat. Crispy, tasty. I liked. Want to try? To prepare such a pile of chips went only 2 potatoes

Preparation
Wash potatoes well. Peel if you want. I didn`t

. Make slices with a special grater, which make them thin:
Grease microwave plate with some oil and spread the slices:
Cook for 5 min at power of 800:
Next time plate can be greased or not – the result will be different. By greasing chips are well fried. Without — white. Taste is not affected:
If you wish sprinkle with salt or and favorite dried herbs:
Here is without greasing.
And this one – when plate was greased:
If not to grease the plate — in 5 min chips stick to plate well and dry, if not to remove them hot and with the help of knife

. I solved it easily: cooked for 4 min. Then just flip chips to other side and urn on microwave for another 1 min. Thus baked chips without oil has not stuck to the plate.
Experiment with your microwave, they are all different.
I got such an amount of chips from 2 medium potatoes. Though, some were eaten before the photo shoot.
There was an idea to try to make apple chips on the same principle — heard that there are some. Apple, firm but sweet, was also sliced and cooked in the same way. Chips from apples were crispy and tasty:
They keep a nice sweet-sour taste. I think that cooking apple chips is important sort of apples you use. You have to find out time of cooking by your own.
Bon Appetite!