Dimlyama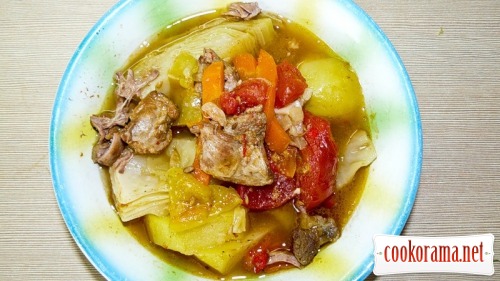 Ingridients
0,5 kg
2 шт.
2 шт.
4 шт.
0,25 шт.
1 шт.
For me beginning of autumn always causes mixed feelings, on the one hand the summer is over, yellow prevails over greens and ahead is damp and cold, but on the other hand, they are not yet tomorrow. Usually still quite warm and the sun is still warm somehow like  summer, but the biggest plus for me at this time — it's vegetable markets, they are just overwhelmed with the fresh crop. Pyramid of cabbage, tomato boxes, eggplant as purple torpedoes. Begin to enjoy vegetable dishes and the workpiece, accumulate the summer)). Also  was on yesterday, I wanted something tasty, but not laborious, laziness — it prevails in beginning of autumn, the body has not recovered after the summer, relaxed. Therefore, I remembered a wonderful meal, I do not know whose, Uzbek, Azeri, or even someone, so just call the Asian — Dimlyama . The dish is very simple, tasty, and most importantly useful.


Preparation
I cleaned meat from films, diced and fried with sliced onion. Put in a thick-walled pot, who has the cauldron, envy in good meaning, but I have not it yet. Added some salt, pepper and added a bit of cumin.
Spread on meat carrot, then tomatoes, some salt, pepper and cumin. I put few cloves of garlic and salt each layer, but only a little, important thing is not to overdo it.
The next layer was Bulgarian pepper, cut in large triangles, then slices of cabbage with 2-3 сm thick.
And the last layer, chopped potato. In general, you do not need to add water, vegetable give enough juice, but I like when there is a lot of broth that`s why I added half glass of water.
Cover all this with few cabbage leaves, put lid and in the heated at 150 C oven for 2-2,5 hours.
         The main thing during this time you can not open the lid or even more stir,just forget it. Smells by their own time will tell about the dish and right in this moment  be patient, not to go in kitchen ahead of time. But then, when you carefully put in a deep dish all the vegetables in the reverse order of how it was laid, lay on top pieces of lamb and pour with thick broth, and then you will be rewarded for your patience. It remains only to fill with chopped herbs, salt, crushed garlic and it's time to call all to the table.