Beets with goat cheese and dill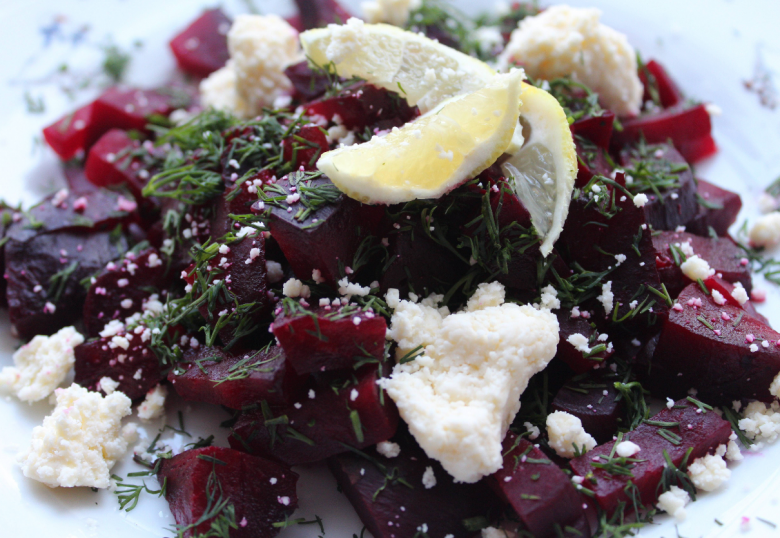 Ingridients
650 g.
1 шт.
1 spoon
1 spoon
1 spoon
90-100 g.
Hello, dear friends!

Today I offer to cook light and hearty meal, an interesting mix of familiar ingredients.

Dish, which is preferably served warm, can be a side dish or appetizer or salad or even a main dish. In particular, I cook it for lunch or dinner. And these ingredients help tummies to work better, so help yourself!


Preparation
1. Bake beetroots. Wash, put on baking sheet, pour 1-2 tbsp of water and cover with foil. You can boil beetroot, but it is baked beet with better flavor and color that are lost during cooking. Approximate time: for small — 40 min., for medium — 1 hour, for large — 1.5 hour at 190 degrees. Check, piercing with fork.
2. Let them stand for about 10 min out of baking sheet. Peel and slice them.
3. Put warm beets in plate, add chopped onion and stir.
4. Sprinkle with sugar, add salt, pour vinegar and lemon juice. Stir it. You can add oil to taste.
5. Shift in large bowl or spread in portions.
6. Sprinkle with dill, goat cheese or brynza.
7. Serve dish warm or of room temperature.
BON APPETITE!
465

29 November 2014, 20:02