Funny apples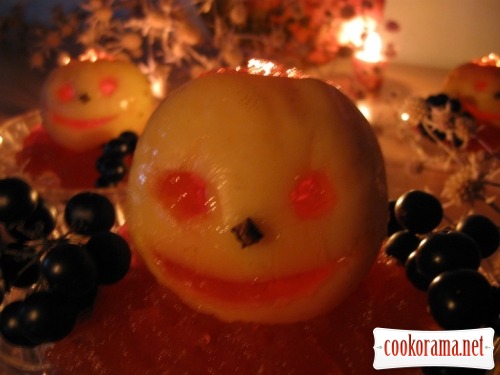 Ingridients
8 шт.
300 ml
200 ml
50 ml
8 шт.

Dessert, which causes a smile of your loved ones, easy to prepare, can be devoted to any holidays, for example Halloween

Preparation
Wash apples, remove cord with tea spoon.
Pour water in saucepan, let it boil. Add sugar, stir till complete dilution, add wine. Put apples in boiling syrup and boil till readiness.
Spread ready apples on plate and let them cool.
Prepare jelly by recipe on the package. Let it freeze.
Cut in cooled apples with a sharp knife «faces» – eyes and mouth.
Mash with fork or spoon cooled jelly. Fill the apples. Make noses from carnation.
Spread rest of jelly on portion plate, top with filled apples.
Decorate table, serve apples.
In general, this dessert can be cooked for New Year, instead of «funny faces» cut stars in apples, and cover on top with mixed cream and grated chocolate, for example