Kebab from chicken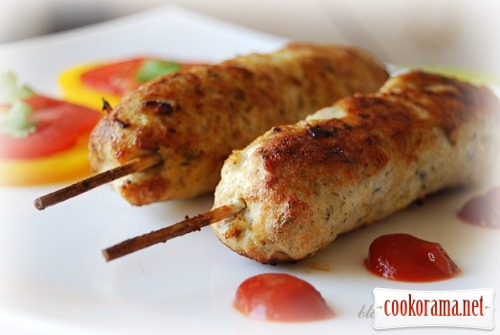 Ingridients
Preparation
Grind in blender chicken fillet, lard and onion.
Add spices and greens, and mix all well. Mixing and beating – is an important moment in preparation if mince for kebab. On this depends whether hold out mince on skewers (spits). Knead mince as dough. Well mixed mince should be beaten. For this you can use a plastic bag.
Put ready mince in the fridge for a night or for 2-3 hours. If mince has become watery,I recommend to add a small amount of flour (1-3 tbsp), but it has a negative impact on the taste of the dish.
Form cutlets with wet hands, strung them on wooden skewers and gently spread over the entire surface of the skewers.
Fry in a pan until golden brown and then put in the oven for 10 min at 200 degrees.
Bon Appetite!
614

14 September 2010, 08:41