Chebureks Beach Season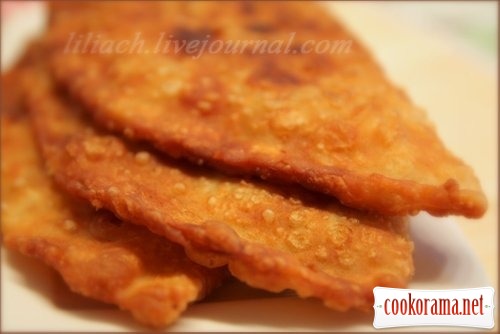 Ingridients
Filling
500 g.
2 шт.
2 шт.
Dough
100 g.
1 glass
1 tsp.
2 spoon
4 шт.
3 шт.
Gentle puff pastry with juicy meat stuffing!


Preparation
Stuffing:
Mix all.
Dough:
Mix in saucepan butter, water, salt and oil. Bring to boil, stirring, add flour and mix well with a wooden spoon. Put back on the stove and mix for a minute, till mass gathers round the spoon, «boil».
Cool it. Add eggs one by one in cooled mass, and then, gradually adding flour, knead dough of medium softness. Let it stay for a while, covered with a clean towel, for about 20-30 min.
Cut a piece from dough, roll a sausage from it and cut it in equal parts. Roll each part in thin (!) flat cake. Put about 1 tbsp of stuffing on one side of flat cake and spread it.
Cover with empty from stuffing edge of dough and press the edges with fingers, press with hand, removing excess air.
Move by edges with a special roller or fix the edges with an ordinary fork, as if pushing it over the edge of cheburek.
Heat the oil in pan, so it reaches the middle level of cheburek, and fry for 3-5 min from each side. Chebureks will bubble up in a frying pan and browns appetizing. Spread them at first on paper towel, to remove excess oil, and then on the dish.
Note:
dough is tastier, if to let it stay for a while!