Puff pastry with cream patiser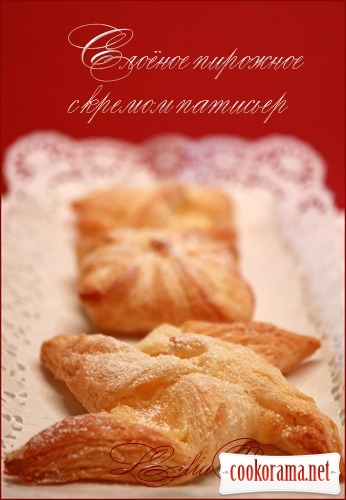 Ingridients
Ingridients
Cream patiser
300 ml
3 шт.
100 g.
50 g.
Very tasty cake with a delicate custard


Preparation
Boil milk with half of sugar and stick of vanilla.
Combine yolks with remained sugar and starch. Mix well, to avoid clups.
Pour some hot milk in cup and carefully pour in yolk mass, constantly stirring.
Add mass in boiling milk and boil till thickening on a low heat.
Cut dough in squares of 10 x 10
Put cream in the middle and connect the corners in the center.
Very important to connect corners tight, so that they won`t open by baking.
Heat the oven at 180 degrees.
Cover the sheet with baking paper, spread our pastries and bake for 20 min till golden color.
Sprinkle with sugar powder.
source is Vitora from forum u-samovara