Turkey stir fry with wild rice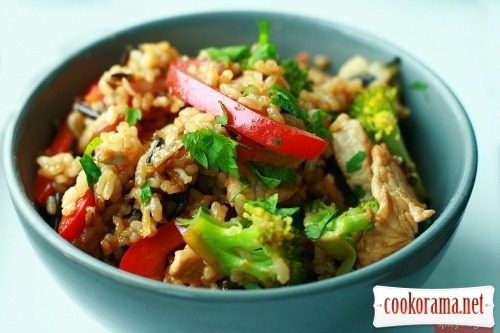 Ingridients
2 шт.
3 шт.
1 шт.
300 g.
2 шт.
8-10 шт.
1 bunch
0,5 glass
1 glass
This dish illustrates a method of cooking on high heat and in constant motion. Most often, this method is used by chefs in China and other countries in the Far East, as well as dishes using a wok or frying pan. The secret is that the round bottom of the pan allow to stir products so that they do not burn completely were covered with sauce, as well as the material allows to transfer heat easily and store it.

It is prepared very fast, so you won`t have time to cut and add new products. Would highly recommend to decide in advance what you will add in Stirfry and chop all. Then lay out the products in order adding to dish.


Preparation
The only complex organizational work that you have to do is to soak overnight wild rice in a little water. Thus, it is supplied with moisture and simultaneously prepared with the usual one. The usual rice should just be rinsed several times to remove excess starch, then it will not stick together.
Wok dishes can give not only bright colors, but also health to your organism. Fresh vegetables do not have time to lose a lot of nutrients in a short cooking time. You can use olive oil instead of sunflower, it will be useful, but do not use expensive olive oil. It can kill the taste of the dish with its rich aroma. Good soy sauce is rich in protein and is often used in cooking with an eastern note. Ginger is also a regular guest in the kitchen of the East, it influences perfectly on nutrition. Choice of vegetables depends on you, but I recommend to choose strong, bright vegetables that keep their shape well, and certainly fresh.
Let`s start to cook. Cut the ginger into thin long slices. Chop garlic and chili, if you use it. Cut turkey fillet in thin slices. Cut sweet pepper in strips of the same size. Disassemble broccoli florets into smaller ones. Slightly stir eggs in bowl.
Boil ordinary rice together with wild. Stir with fork a bit and put aside.
Put wok or frying pan over high heat and add 2 tbsp of oil. Once on the surface of oil appears light ripples, pour eggs. Fry them, collecting with spatula from edge to the center. When the omelet is still slightly liquid inside, spread it on paper napkin.
Add another tbsp of oil. Heat again. Add ginger, garlic, chili and fry for 30 sec. Next, add turkey and fry it for 30 sec. Do not forget to stir contents of the the pan constantly. Add sweet pepper, stir and in 10 sec add broccoli.
Fry all together for 20 sec, then add lime juice, 2 teaspoons sesame oil and 4 tablespoons of soy sauce. Cover with sauce all the vegetables, затем then add rice and omelet. Stir all well, to tear omelet in pieces, and each grain of rice is completely covered with sauce.
Remove from heat and immediately before serving, mix in a mixture fresh, chopped cilantro.
443

22 September 2010, 17:54