Tomato and radish salad with beef and brynza dressing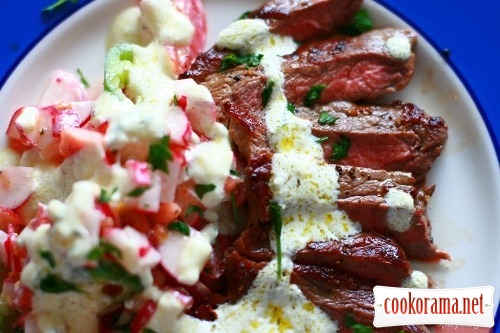 Ingridients
1 шт.
4 шт.
2 шт.
1 spoon
1 spoon
1 tsp.
The idea to make dressing on the basis of brynza occurred to me, when I thought about different ways to use cheese in a salad. Crumble the cheese on top, I resolutely refused, stomach demanded new sensations. The result of the imagination was this simple, surprisingly bright and summer recipe that can serve as a salad and main course, depending on what you want to bring to the fore. In my case it was the breakfast (quite belated), so for me it's still a salad. And roast beef entrecote gives it a touch of genuine luxury. Although you can safely use chicken breast or pork tenderloin, it`ll hurt in no way.


Preparation
Put pan on a strong heat, add tbsp of olive oil. Salt and pepper meat well. Once the oil starts to smoke slightly, gently place the steak in the pan. Fry for minute and a half on each side (for medium rare). Turn meat only once, and then immediately add the butter. When the butter has melted, place a piece of meat to the edge of the pan and lift the edge. With a spoon pour the meat with butter, prevailing in the bottom edge of the pan several times. Once the meat is ready, leave it to rest on a plate.
It is important not to rush to cut steak immediately after you cook it, you risk losing all the precious meat juice. If let it lay for 5-7 min, it will relax and the juices collected in the center of piece (away from the edges of the hot), distribute over the whole area. As a result, you have a delicious, juicy steak.
While the meat is resting, cut in an arbitrary manner, tomatoes, radishes and peppers. Mix in a bowl, pepper, but do not salt, because the brynza is quite salty cheese. For the filling, mix energetically sour cream, brynza, vinegar, oil, salt and pepper into a thick mayonnaise. Oil and vinegar are best used in proportions 3 к 1. Half of filling, add to the vegetables and stir.
Put entrecote on a cutting board and cut at an angle with a sharp knife into strips. Spread lettuce on the plate, near overlapping pieces of meat. Serve, poured with dressing and sprinkled with finely chopped parsley.
Top of recipe "Tomato and radish salad with beef and brynza dressing"