Fruit-berry jelly-cake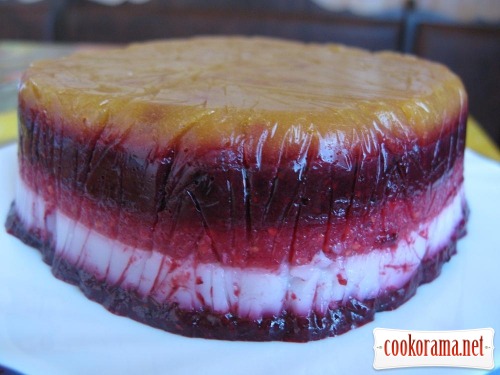 Ingridients
2 spoon
100 ml
200 ml
100 ml
100 ml
100 ml
Preparation
Pour gelatin with warm water, put on low heat and stir till complete dilution, I do this in mocrowave.
Add sugar, dilute it, do not boil. Cool it.
Take 5 plates and equally divide gelatin, I made that with table spoon.
Then put in each plate different puree, there should be two plates of black currant. Mix well.
Cover cake form with food film, and pour there peach puree with gelatin. Put in the fridge till complete cooling.
After freezing pour next layer – black currant and again in the fridge.
Repeat other layers in the same way, raspberry, milk, black currant.
When all layers are done and frozen, take our cake out from the fridge and flip it on the plate. Remove film.
Decorate as you wish.
Bon Appetite

You can choose fruit and berries to your taste.
Take 1 tbsp of gelatin for 500 ml of liquid. But I always take more.
If you do not want to have on cake repulsed strips of the film, you can not use it. And before turning the form of cake, dip it for a few seconds in warm water.