Tuna grilled with scrambled eggs and fried tofu coated in sesame seeds and nuts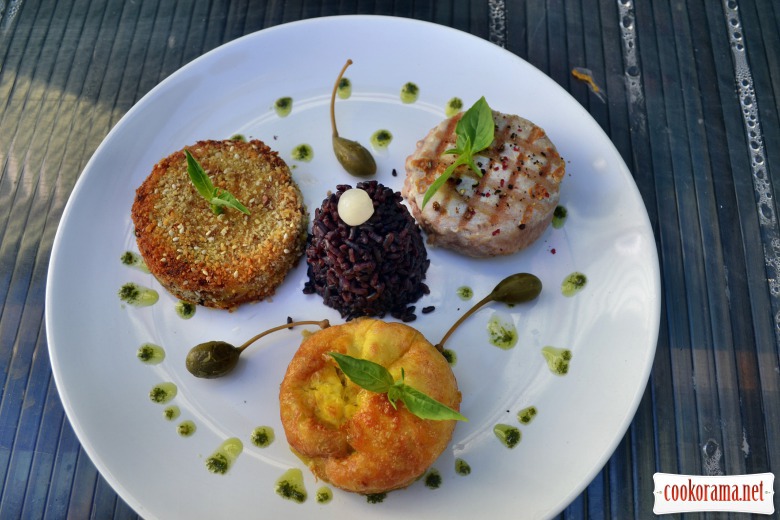 Ingridients
Ingridients
170 g.
1 шт.
50 g.
25 g.
Breading
2 spoon
1 шт.
2 шт.
2 tsp.
0,5 tsp.
Preparation
With cooking ring, carve roundels of tofu and tuna.
Mix egg, add salt, pepper, 2 tsp of flour and some milk.
Grease cooking ring inside with oil, put in refractory form, pour egg in form, and put in oven, to readiness at 180℃. Tofu itself is tasteless and bland, but it is a good absorber. That is, it absorbs all tastes. So I decided to marinate it in a mixture of soy sauce and teriyaki (1:1).
Then roll tofu in flour, then in mixed egg, bread it and fry over high heat to brown. Salt tuna, roll in oil and fry on a dry frying pan on both sides. You can then bring the tuna until cooked in the oven.
Boil the rice in salted water until done, put in colander and rinse lightly.
Laid out in the middle, round water pesto, put around tuna, tofu, eggs, decorate with capers and fresh basil.
Bon Appetite!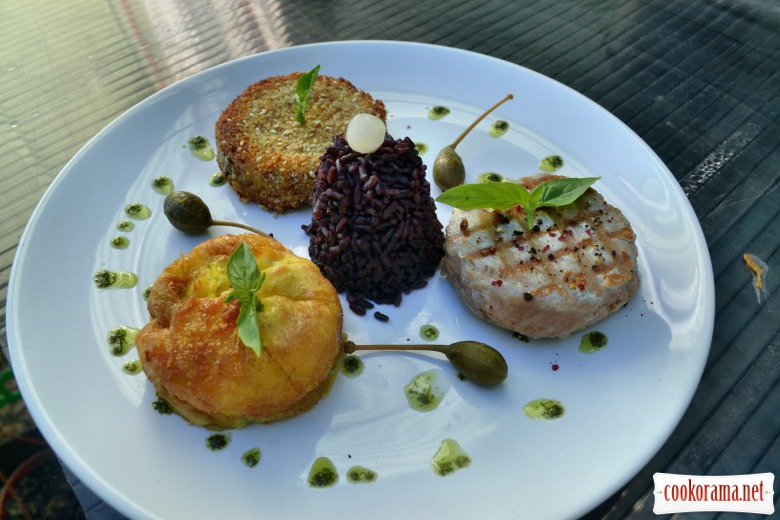 Top of recipe "Tuna grilled with scrambled eggs and fried tofu coated in sesame seeds and nuts"