Napoleon with custard and cherries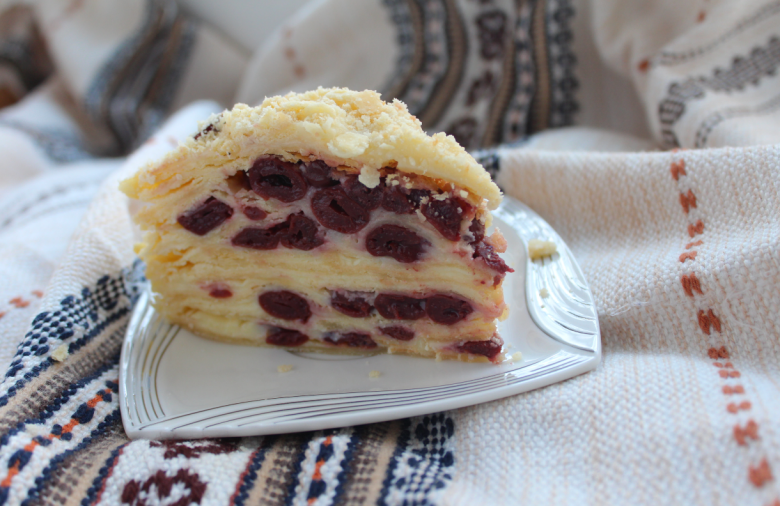 Ingridients
Dough
400 g.
500 g.
1 spoon
1 шт.
220 ml
Cream
4 spoon
5-8 spoon
2 glass
60-80 g.
4 шт.
Hello, dear friends!

I propose to cook delicious and quite simple cake you will enjoy for sure

Napoleon — a special cake. It can be with custard or apples, can be as sweet and for snack. I offer to cook fast puff flat cakes and add it with «highlight» — spread cherries, which can be taken as frozen and from jam.

Preparation
Preparation of flat cakes:
1. Mix cooled butter with flour.
2. Add rest of ingredients.
3. Gradually add icy water. Regulate number according to the consistency.
4. Knead dough, divide in 6-8 pieces and put in the fridge for 30 min — 1 hour
5. Take out one ball, roll in thin layer and cut. Put in hot oven. Usually I bake at 190 for about 10 min. But be careful here: bake to brown bubbles. You can cut ready flat cakes, but for me is easier to bake ready form.
6. Combine cuts, roll and bake a flat cake.
7. Cool the flat cakes. Grind one of them into crumbs, for topping.
Prepare cream:
1. Mix in saucepan flour, sugar with eggs.
2. Add milk.
3. Put over medium heat and stirring, bring to a boil.
4. Remove from heat and stir well, to avoid clumps. Add butter, stir it
5. We can shift cream in bowl and put in the fridge, cover it before with film, to touch the cream. This will help to prevent the formation of film.
Assemble the cake. The easiest way is to collect the cake in split form. Between flat cakes and cream sprinkle cake with cherry. You can replace them with something else. Very soon is the season of fresh berries, so you can cook the usual «Napoleon» in a new way

Put cake in the fridge for a few hours, better for a night. Next – sprinkle it.
Bon Appetite!
585

01 March 2015, 16:55