Cupcakes "Raffaello"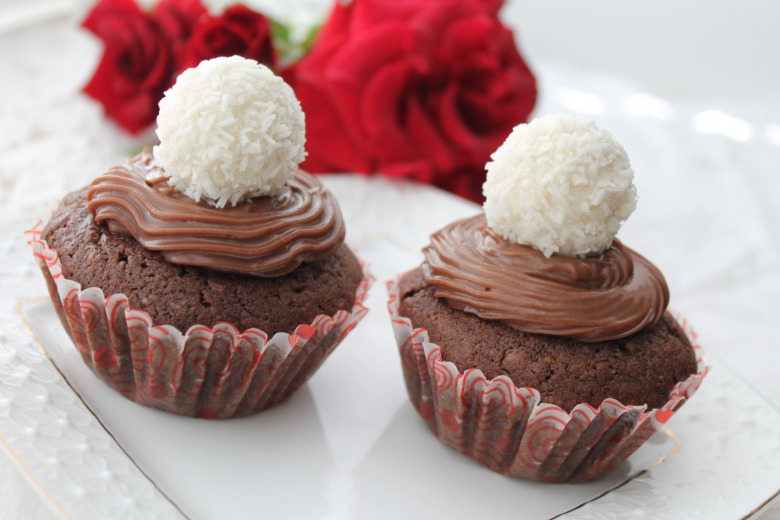 Ingridients
Dough
125 g.

hazelnut (grind into flour)

150 g.
0,5 tsp.
0,75 tsp.
120 g.
55 g.
100 g.
2 шт.
100 g.
100 g.
Cream
1
250 g.
12 шт.
All ingredients should be of room temperature.
Mix flour, chopped nuts, baking soda, baking powder and sift through a sieve.
Separately, melt butter in a water bath, remove from heat and add remained chocolate, to melt chocolate in the end mix it to homogeneous condition. Add to chocolate-butter mixture sifted cocoa — mix and leave to cool.
Combine eggs with sugar powder and mix into fluffy mass, add vanilla sugar, chocolate mixture and stir all gently. Add sour cream and part of flour mixture, stir with spatula, add rest of flour mixture and stir(do not mix). Mass is quiet thick, so if you want to get smooth and even shape, spread dough with a syringe in molds. Fill molds at 3/4 and bake in oven at 170℃ for 20 min, check with toothpick (if it is dry-ready). Let them cool completely.

For cream: Mix cream cheese Philadelphia and Nutella until smooth mass. Shift ready cream in the syringe and put on cooled cupcake and top with candy. Cupcake perfectly stored in a refrigerator, but before serving, preferably to put them for a bit at room temperature.
688

13 March 2015, 23:57